27 September is World Tourism Day! Cambodia looks set to re-open to international travellers from November 2021, so that dream trip to the Cardamom rainforest could soon come true! 
To reconnect to the pristine nature and support wildlife conservation, there's no better place than the Wildlife Release Station.
Here's what you need to know before you go!
What to expect at the Wildlife Release Station
This is a true escape to nature so come prepared for sun and rain. The Wildlife Release Station is in the heart of the rainforest so rain is inevitable but sun is guaranteed!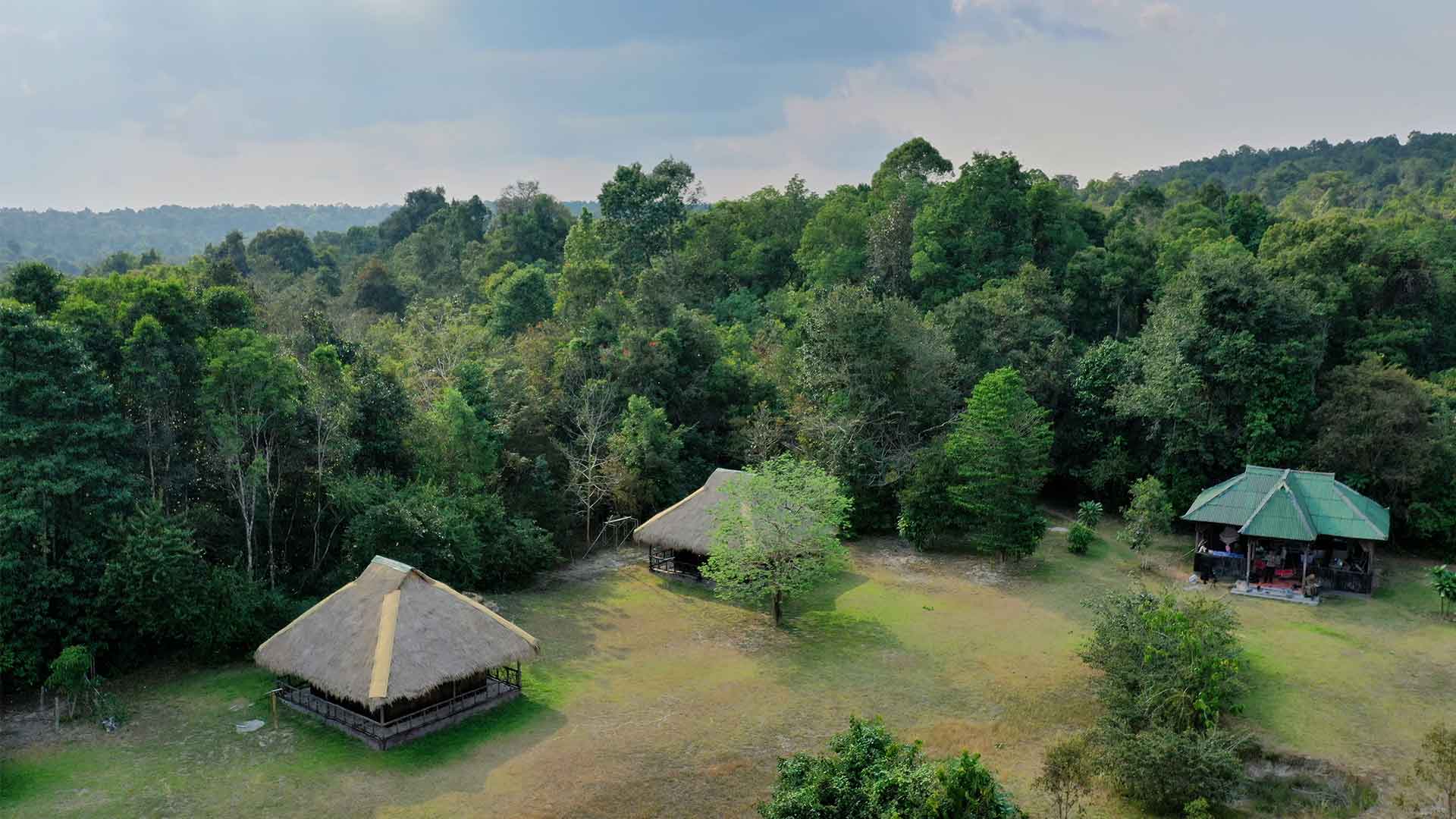 The sun powers the Station via solar panels for essentials like lights and charging mobile devices.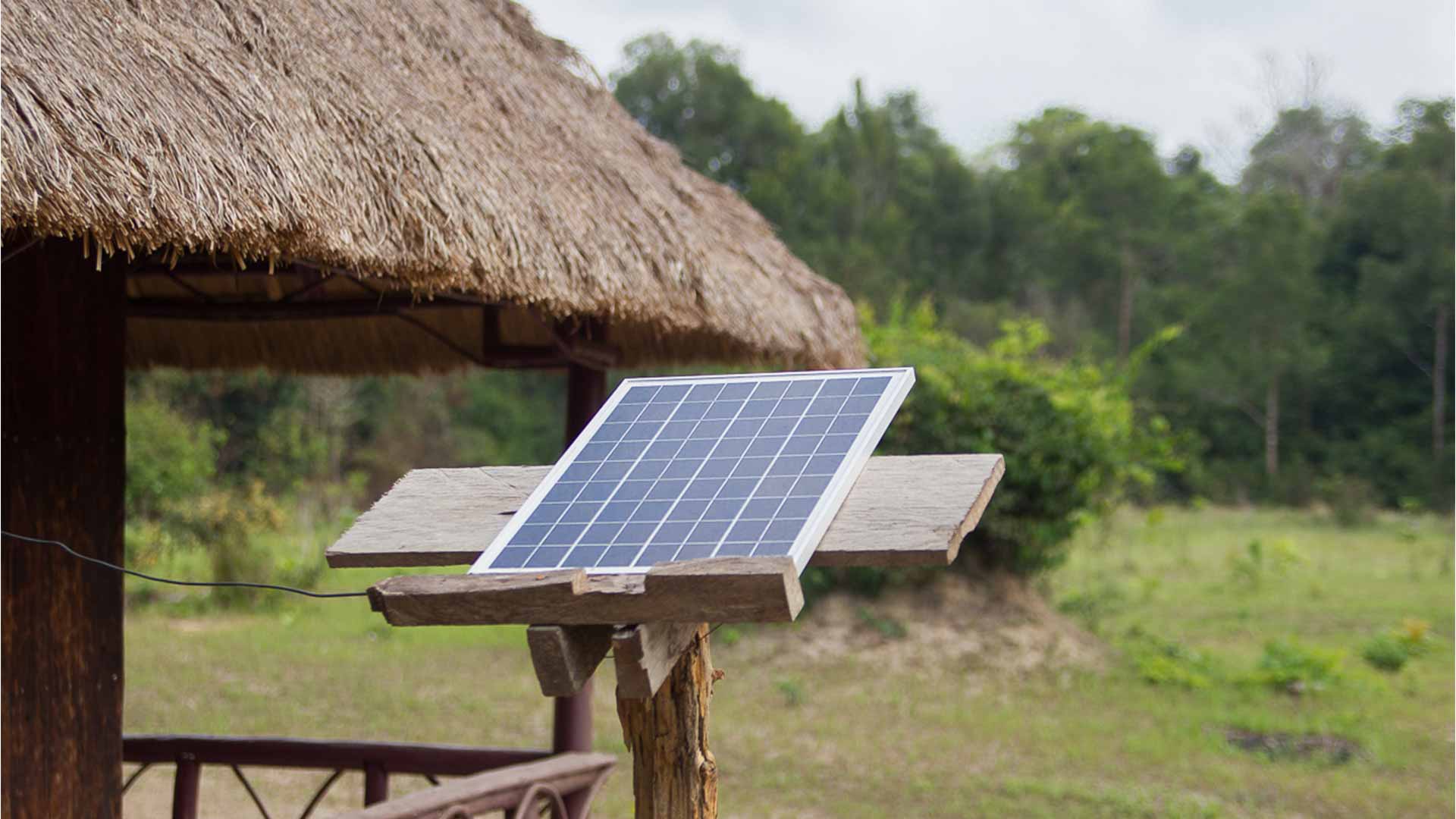 That said, due to the remote rainforest location, there is no wifi and little phone cover. It's the perfect chance to finally do that digital detox you've been thinking about! We encourage you to do a digital detox and return to nature! There are many ways to do this.
5 ways to get back to nature at the Wildlife Release Station:
Trek through the rainforest around the Station

Check camera traps to monitor rare animals

like clouded leopard, leopard cats, civets, porcupines and deer!

Kick back in a hammock 

Enjoy Cambodian hospitality: our keepers love to share meals, stories and the occasional rice wine with guests!
Trekking at the Wildlife Release Station 
Trekking is one of the best ways to immerse yourself in the wild place that is the Cardamom rainforest! While the forest can be humid, there are plenty of streams, ponds and waterfalls where you can cool off! These are perfect for swimming, forest bathing and nature-based therapy.The water pools and streams nearby are beautiful, especially in the wet season from May to November.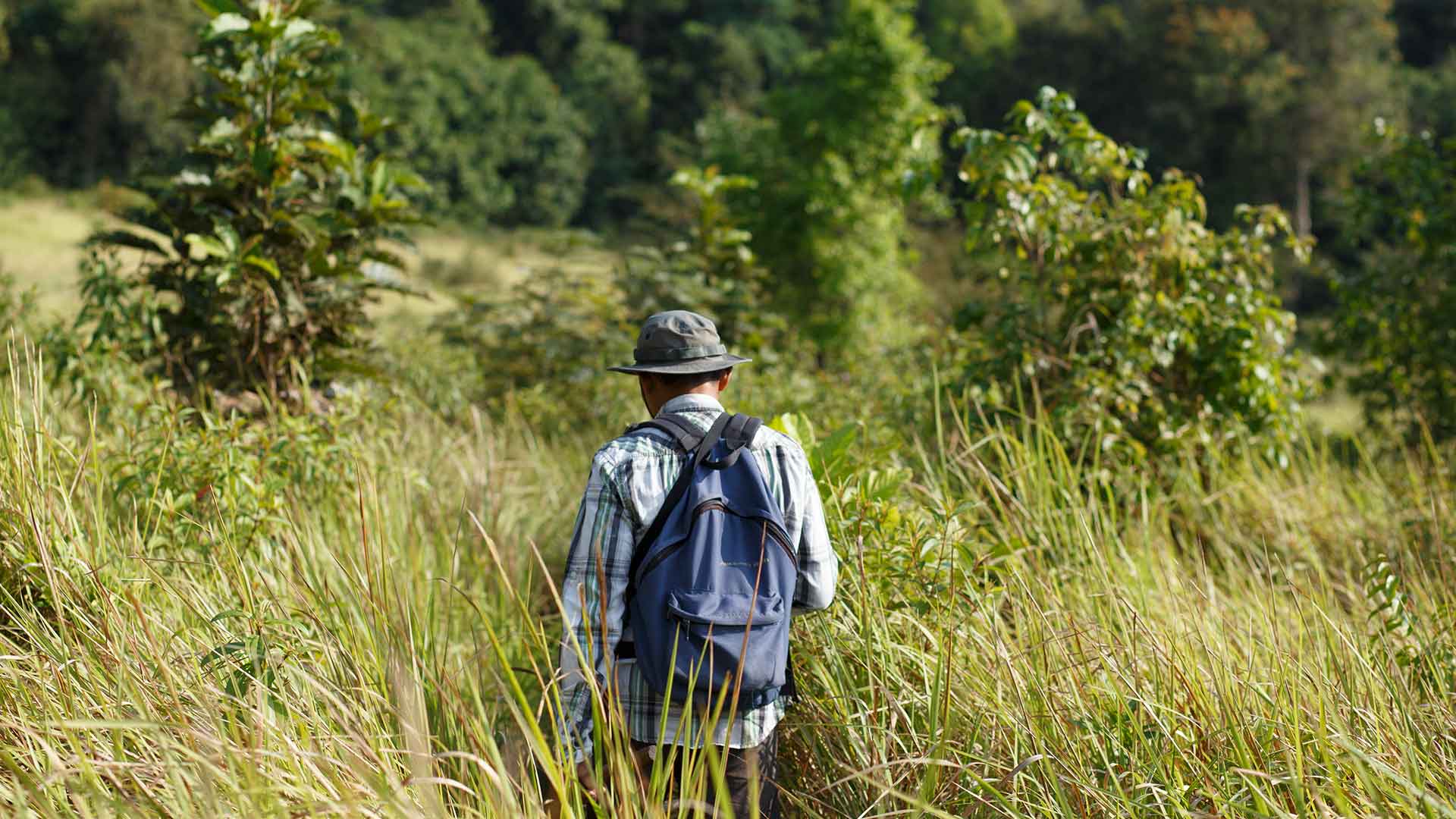 What to bring: 
long trousers

socks

hiking boots

hat 

insect repellent 

things to swim in 
How to get to the Wildlife Release Station 
The Station is off the beaten track, so we provide motorbike transport from the nearest village, Chi Phat. To arrive in Chi Phat, there are a few options: 
Take the local bus from Phnom Penh to Koh Kong (or visa versa) and alight at

Andeung Tuek Bridge

, from there you can take a moto dop a further 7km from the main road to the village. 

Take a taxi from Phnom Penh, Siem Reap, or elsewhere. Your driver can drop you at the small ferry that crosses the river to the village. Once you step off the ferry, it's a short walk on the main road to the Community Based Ecotourism Visitors Center. Here, our staff will meet you to take you the rest of the way to the Wildlife Release Station!

Ride a motorcycle: for real adventurers, rent a motorcycle in Phnom Penh and ride to Chi Phat. (Look up Move to Cambodia for options) As above, our staff can meet you at the visitor center and guide you to the Wildlife Release Station!
More detailed instructions are found on the Chi Phat website here.
Chi Phat Community Ecotourism Village – a Cinderella story 
Chi Phat is Cambodia's premier Community Based Ecotourism (CBET) site. The community is located in the Southern Cardamoms National Park, surrounded on all sides by lush rainforest. Chi Phat opened its doors in 2008, and has since welcomed an average of 3,000+ tourists a year. Today, Chi Phat is the gateway to the Cardamoms for adventurers from around the world. 
Tourists come for adventure and rich biodiversity. In Chi Phat, you can explore the Cardamoms, one of the last large rainforests in Southeast Asia. But Chi Phat was not always a dream ecotourism destination. The village was once a hub for illegal logging and hunting.
Life was tough – there were no roads or electricity, and access to education was limited, so people turned to the forest for survival. Every year, huge swathes of precious rainforest were burned to make way for farms in a process known as slash and burn agriculture. Snares were set to catch animals big and small for food and the illegal wildlife trade. Things got so dire for the forest and wildlife that Chi Phat earned the name the "circle of death". 
Seeing both the environmental tragedy and great potential of Chi Phat, Wildlife Alliance partnered with the community with the support of the local authority, and the Chi Phat CBET was born. From that day forward, everything changed. Suddenly, 300 families had jobs in tourism as hosts, guides, cooks, drivers and more! 
Now, instead of looking to the forest for survival, people in Chi Phat see the forests and wildlife as essential assets for tourism. Today in Chi Phat, there is zero slash and burn. Without the Chi Phat CBET, coupled with the Cardamom Forest protection ranger patrolling, much of this magnificent dense rainforest landscape would have been lost. 
If you have time, we recommend spending a night or two in Chi Phat before or after your stay at the Wildlife Release Station.
Thanks to the CBET, families in Chi Phat have been able to develop their own ecolodges and homestays, in addition to activities like :
multi-day trekking packages

boat tours
mountain biking tours
sunrise birdwatching tours and
picnic at one of the stunning waterfalls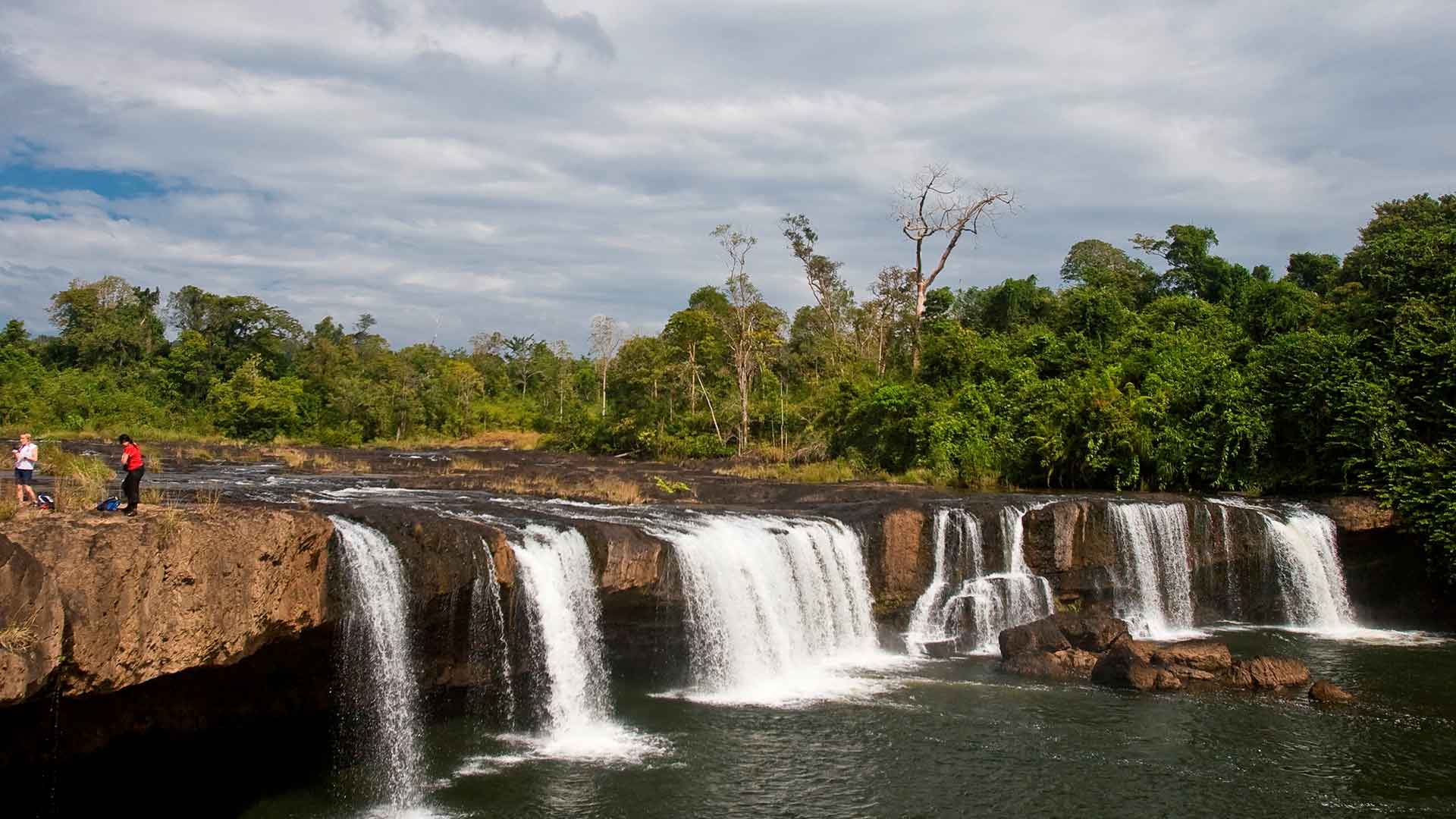 Prepare for adventure at the Wildlife Release Station 
The adventure starts the minute you're picked up from Chi Phat by our guides. The journey is 7km in total – on the back of a motorbike going off-road through the forest. Along the way, you cross streams with bridges and at times you may get your feet wet! That said, our guides are expert drivers, so you can just enjoy the ride! 
Quote from tripadvisor– 
'You arrive and depart via a 30 minute Moto experience you are not likely to forget…adventure whilst feeling safe and secure.''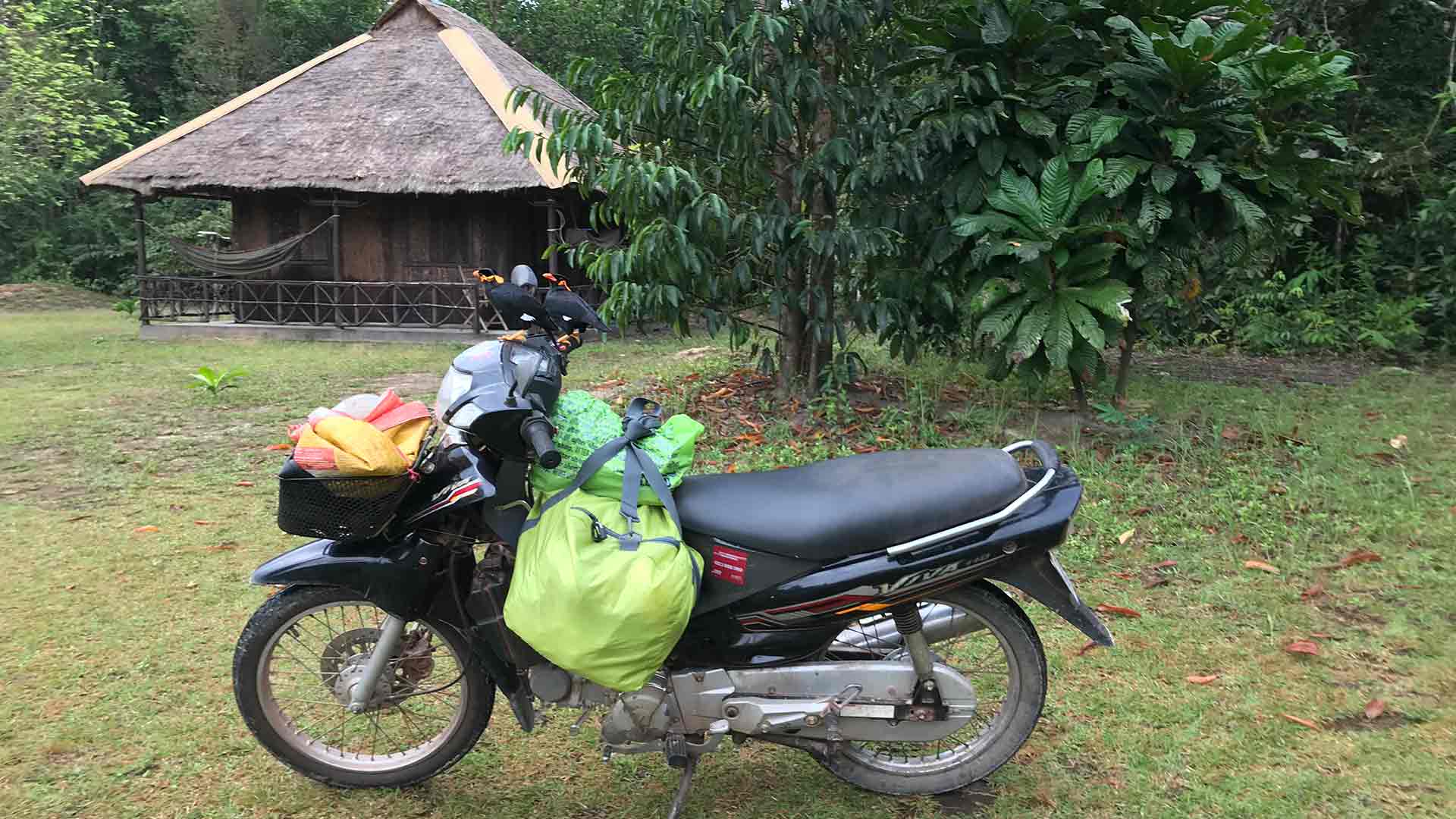 Once you arrive at the Station and get settled in, be sure to apply some insect repellent. This helps to deter mosquitoes and leeches so you can stay comfortable!
Accommodation at the Wildlife Release Station 
Your stay at the Station will be in chalets built with traditional natural materials, complete with ensuite bathrooms. Due to the forest location, you may receive surprise guests – bats, lizards, spiders and squirrels! Remember, the Station is a paradise for wildlife! But if these unexpected guests are unwanted, feel free to ask the guides or keepers to safely move them out for you. 
Food at the Wildlife Release Station 
All meals are made fresh on-site by our talented keepers-cum-hosts using locally sourced ingredients. Dishes can be adapted to any dietary preference so please let us know before you arrive. Typical dishes include local style soups and stir fries, pancakes, eggs, rice and much more! Coffee, tea and water are available at all times, with refreshing sodas and beer available to purchase. 
Your stay supports wildlife
Some species, like the Sunda Pangolin, are Critically Endangered, so every individual is essential to the survival of the species. The Station means different things to different animals. It could be a permanent home, or may be a place of rehabilitation or release.
Your stay supports keepers 
In addition to supporting wildlife, your stay enables alternative livelihoods for the keepers and community rangers. Like Chi Phat before the CBET, before the opening of the Wildlife Release Station, local people turned to the forest for their survival.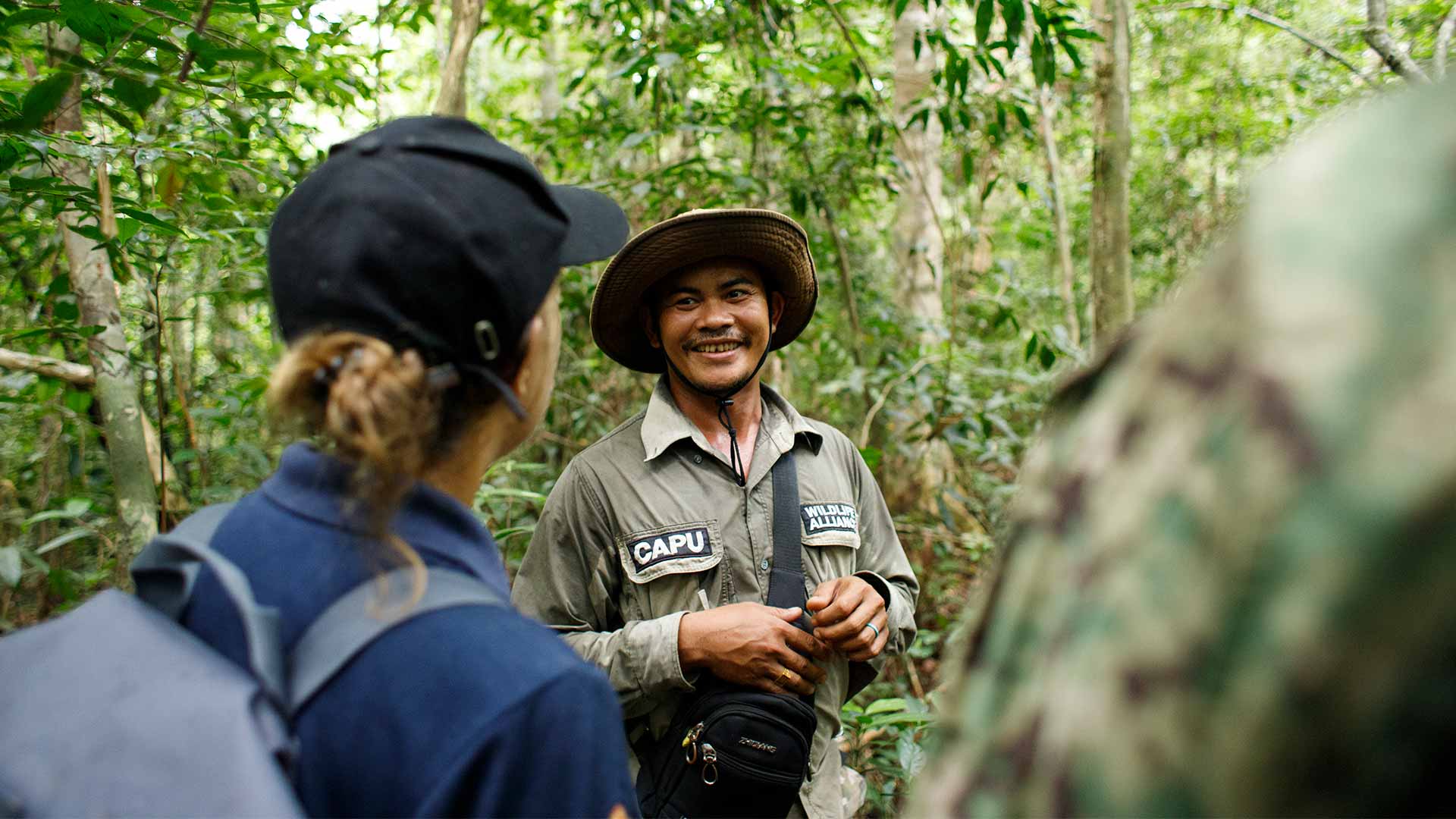 Our head keeper Soeurn remembers back to before the Wildlife Release Station. "I used to go into the forest to snare, poach and sell animals," he says. Soeun was born in the area and grew up loving the forest and wildlife. But circumstances meant he had to kill what he loved. "I actually had no choice but to become a poacher because my family was poor."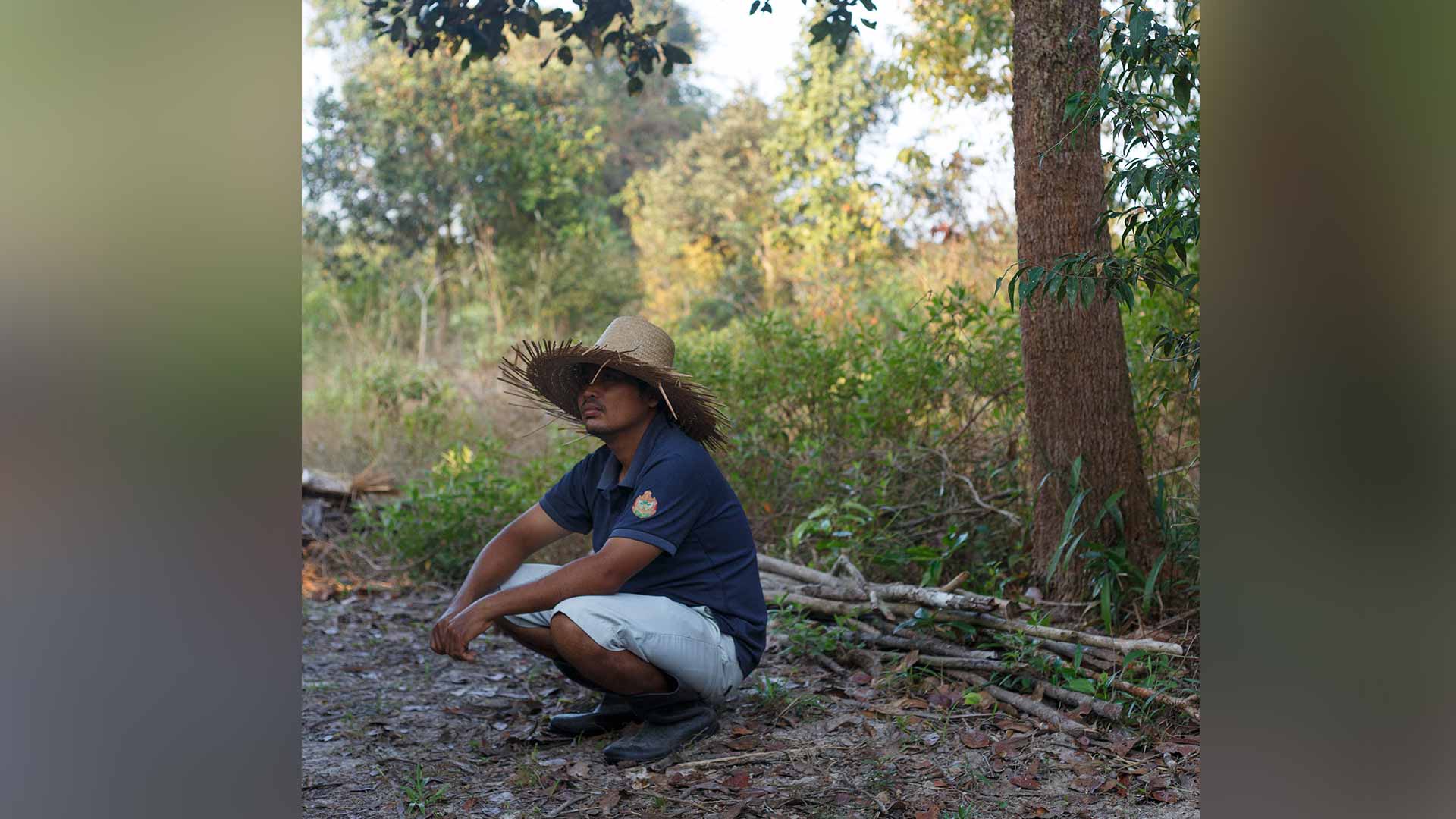 But then in 2008, things changed when Wildlife Alliance came to set up a wildlife release program. "I had the chance to contribute to a (biodiversity) survey," he recalls. "This was an opportunity to change from killing or poaching animals to caring and releasing them." Soeurn has been with us since  the beginning and continues to be a precious member of the Wildlife Release Station family.
Here's what guests say about Soeurn:
'Soeurn was the caretaker on duty. It was really great to see how much he knows about the jungle and how much he cares for it and its animals. When I was there, there was a very small bird and he went to see it multiple times a day to keep it alive.'
Your stay brings hope for wildlife and communities 
With guests like you, there is hope for the wildlife and communities of the Cardamoms to ecotourism destinations like the Wildlife Release Station and Chi Phat.
Book your stay at the Wildlife Release Station
We even have gift vouchers, so you can purchase an ethical gift for a friend! 
Want to know more? If you have questions, drop us a line at [email protected]