Pangolins are Critically Endangered, so finding one is a needle-in-a-haystack operation. At the Wildlife Release Station we are going one step further – releasing pangolins into the Cardamom Rainforest and tracking their movements! This March, we released not one pangolin, but two!
Read on for the how, where and why on releasing Pangolins in Cambodia.
Releasing female pangolin, Roux
First up was female Roux! She was born at the Station in September 2018 to mother Lucy and father Thom. Read more about Roux, our first captive born Pangolin here.
Unlike other zoo and rescue centres, Wildlife Alliance has never sourced pangolins directly from the wild. Instead, Lucy and Thom, were both rescued from the illegal wildlife trade in Cambodia. Read more about how Lucy met Thom below.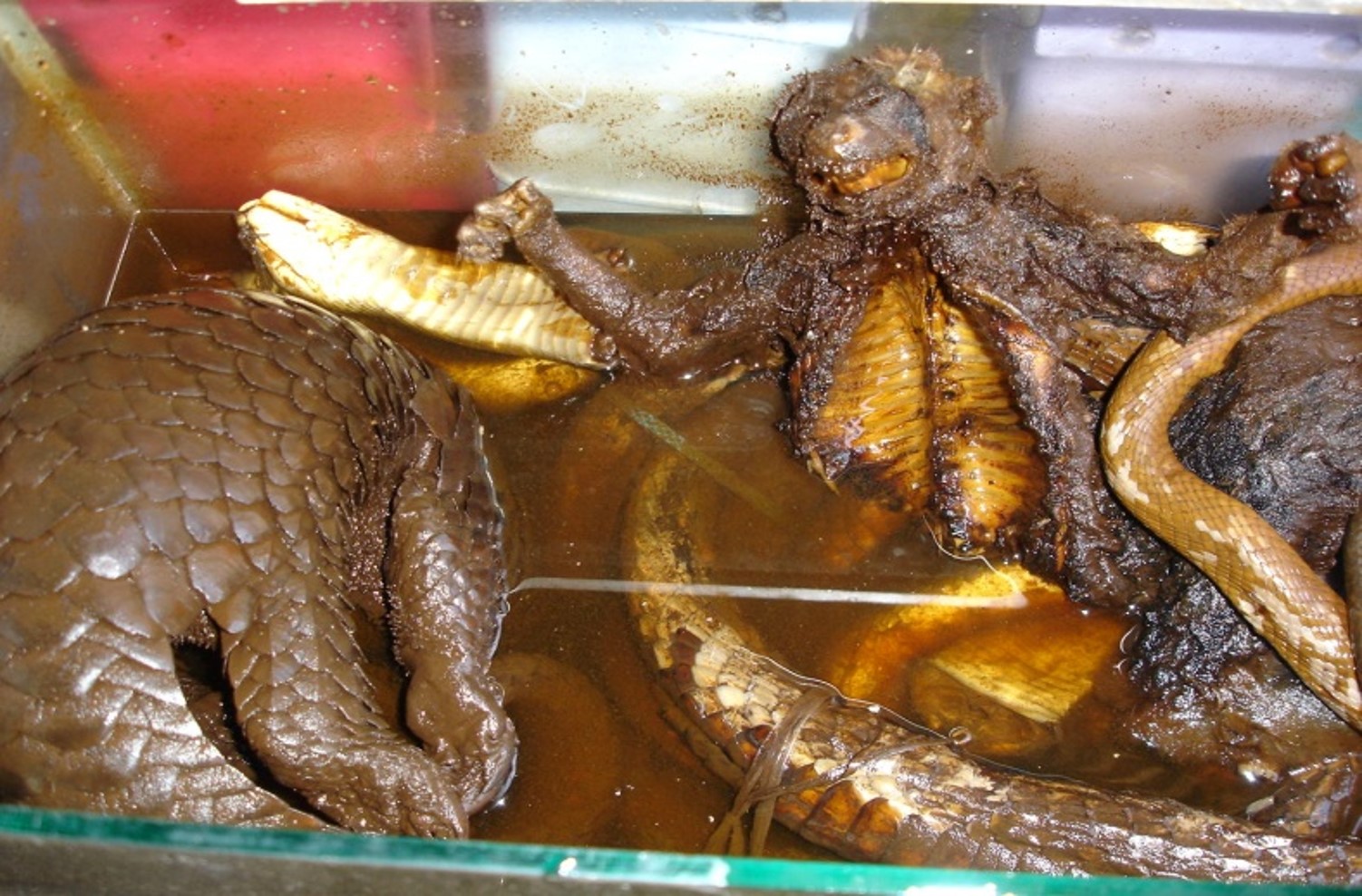 If our Wildlife Rapid Rescue Team (WRRT) had not intercepted them, Lucy and Thom would likely have ended up on the menu. That's because a large part of the demand for pangolins is for their meat, whilst their scales are also prized for Chinese traditional medicine.
If WRRT had not stepped in to save them, Lucy and Thom would likely have ended up in China or Vietnam. A recent global wildlife crime report assessing seizure of pangolin scales by the United Nations Office on Drugs and Crime found that over 70% were destined for China.  Vietnam is also up there as a major market for pangolins.
So far, all the signs are good. Unlike a previously released pangolin, after her release, Roux has not returned to eat the ants left for her by Wildlife Release Station staff.
Releasing male pangolin, Romduel
Some ten days after Roux's release, it was the turn of male pangolin, Romduel. Named after the fragrant frangipani, Romduel started his journey with Wildlife Alliance one year earlier. Unlike many of the pangolins who find their way to us, Romduol was donated to Phnom Tamao Wildlife Rescue Centre in March 2020. He was suspected to be a wild born Pangolin, increasing his chances in the wild – and his potential contribution to captive born Pangolin populations, including Roux!
With this in mind, Romduel was transferred from Phnom Tamao to the Wildlife Release Station in June of 2020. After some months at the Station, it was clear that Romduel wasn't interested in any of our female pangolins. Therefore, he was prepared for release along with Roux.
Since his release, adventurous Rumduel has gone off radar a few times but we always find him in the end.
How to release and track a pangolin
Pangolins are not the first animals we have released and tracked at the Wildlife Release Station. As far back as 2012, we released two Sun Bears (Helarctos malayanus), with the last bear released in 2019, which you can read about here. But tracking Pangolins is a whole different ball game to tracking Sun Bears, because of one thing: the neck. Pangolins lack a distinctive neck, which means they cannot wear a radio collar fitted with a VHF transmitter to track their movements. Well, the neck isn't the only thing: it's also the size of GPS trackers. Currently there are no GPS trackers small enough to fit to a Pangolin safely.
So instead, Pangolins are fitted with a different type of tracking device, called a VHF telemetry tracker. This tracker contains a VHF or radio transmitter, and is secured to the base of the tail.
We road tested this type of tracker on a previously released Pangolin back in 2016. [More here] Keepers at Wildlife Release Station have even used VHF trackers on leopard cats and binturongs.
For Roux and Rumduel, the trackers were fitted in February, giving us one month to monitor and ensure their adjustment to the device pre-release.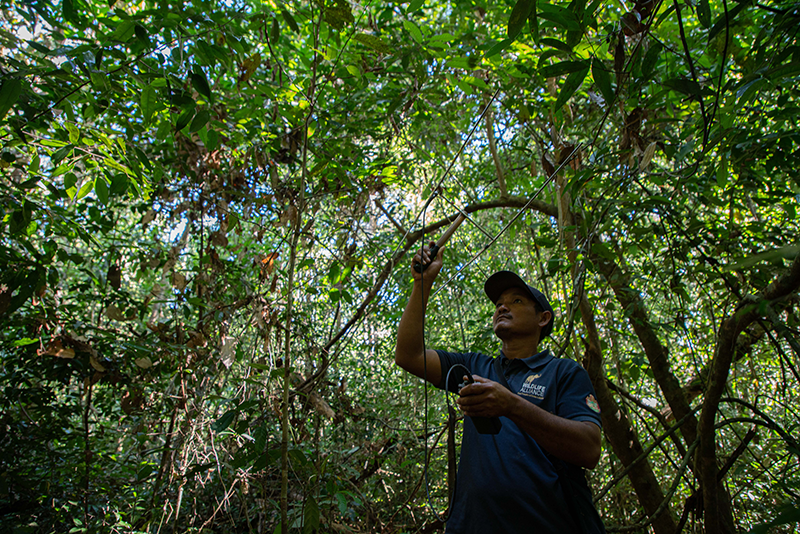 Tracking Pangolins is a full time job! We are tracking Roux and Rumduel seven days a week. On an average day, tracking them down can take anywhere from two to four hours, covering up to 6km. When Rumduel's signal could not be detected, keepers walked over 10km trying to find him.
The next step is to record the pangolins' locations on a GPS unit, noting their den locations. This is a first for keepers, providing an important capacity building opportunity for future releases. In addition, this new skill means the ability to inform local protection efforts, thus increasing the level of security these precious Pangolins, and the other forest inhabitants can enjoy.
The secret life of pangolins
Roux and Romduel are the first Pangolins released as part of research to learn more about these elusive creatures. The study has four goals, including to
Test the attachment of the transmitters,
Learn about Pangolin ecology, including their habitat range and preference,
Build Wildlife Alliance staff capacity for future releases, and
Use the success of the release to inform husbandry and release protocols.
Pangolins are notoriously difficult to track because of their ecology. Pangolins are nocturnal and their night time movements make tracking their movements through the rainforest a challenge. What's more, where Pangolins chose to curl up can make picking up the radio signal a challenge. Pangolins' dens can include logs or rocks, and can even be underground.
The keepers are familiar with these challenges, having lost the male's signal on a couple of occasions for between 24 and 72 hours, but thankfully always managing to locate him.
Sure, Roux and Rumduel are out there in the wild, but they aren't alone. The local Chi Phat Community Anti-Poaching Unit (CAPU) patrols the forest around the Wildlife Release Station. Thanks to the trackers on the pangolins, we can provide general location information to the CAPU rangers to inform their patrols.  CAPU will be updated regularly to inform their patrol areas.
Final thoughts
While the program is still in its very early days, we are excited to see what else we can uncover about the elusive Pangolin. The more we know, the better we can  conserve them and the habitat they require to survive and prosper in the wild.
How you can help us help pangolins!
Our pangolin release project is generously supported by Auckland Zoo. But we are always looking for more fans to help us rescue and care for more pangolins. One way to help is to sponsor a pangolin like Roux on her journey to freedom!
We thank everyone who has sponsored Roux for their support! We will announce our new Ambassador Pangolin to sponsor soon! Watch this space!