This tour gives visitors an exclusive opportunity to see wildlife conservation firsthand, and experience Cambodia's unique natural heritage. Sleep in comfortable chalets, receive freshly cooked local meals, and meet the incredible staff that rehabilitates and releases animals rescued from the illegal wildlife trade. Activities include feeding resident wildlife, hiking into the jungle to spot local flora and fauna, swimming in crystal clear pools and setting camera traps to monitor released wildlife. 
Our tours are reopening at Phnom Tamao! We thank you for being patient with us whilst we rode out what we hope was the worst of the passing storm. From Monday the 15th of June we will be recommencing all of our tours. Things will look a little different however. We will have smaller group sizes, only open a few days a week, and some of our interactions will change to ensure yours and our animal's safety. We'll also ensure there are extra personal hygiene measures available for you and the team. If you can't seem to find a day or availability to book online yourself please get in touch with us at wildlifetourspt@wildlifealliance.org so we can see if we can help you out.
Return to Nature
Leave the beaten path, follow the local sandy trails and enter our protected forest where animals are being returned to the wild! We are proud to invite you to stay at our Wildlife Release Station in the Cardamom Mountains, one of our primary release sites for animals rescued from the illegal wildlife trafficking trade in Cambodia.
This is not a 5 star resort or zoo experience, but a true escape to nature! We promise fresh air, a quiet remote location to relax, beautiful forest and rain fed streams to explore. While you won't see tigers or elephants, we offer the chance to see some of Cambodia's other unique wildlife up close before their release, an insight into the workings of an active wildlife rehabilitation and release site, and true Cambodian smiles and hospitality!
Choose Your Own Adventure
All activities are included in the package, but optional and will be tailored to your preferences and schedule to make the most of your visit! During the wet season (June –November) warm rains are constant in the Cardamoms but activities still continue!
Join our staff on walks through the surrounding forest, following old logging trails and learning about the local flora and fauna. While wild animal sightings are rare, we often see signs of their activity and you can try your hand at interpreting them!
Enjoy the beautiful natural water holes and pools all year round and swim in the small rapids the rains bring in the monsoon season (June to November)
Visit the wildlife we are preparing for release such as resident sun bears, monkeys and birds with their keepers during feeding times and spot newly released animals that are still receiving supplementary food.
Help keepers track radio-collared wildlife after their release, when available.
Be part of the excitement of checking camera traps in the surrounding forest to monitor the elusive local wildlife. We have captured images of wild leopard cats, Indian civets, porcupines and deer species!
Take in the quiet and natural surroundings from a hammock
Enjoy the hospitality of our friendly Cambodian keepers who love to share meals, stories and the occasional rice wine around the night fire with guests.
Accommodations
The accommodation provided blends with its surroundings, and occasionally there are unexpected visitors such as geckos, birds, or spiders! Our thatched chalets are located within a natural grassland clearing and built from sustainable local materials. They are simple but comfortable and come equipped with:
Two double beds (1.4 m wide) complete with full linens and mosquito nets
A private bathroom with modern showers, Western-style toilets and cold running water
Solar electricity to power lights and a USB port for charging phones.
Bamboo furniture
Hammocks to hang up on your porch or over your bed, with built-in mosquito net, for a local experience
There is no wifi but you can have internet connection on your smart phone if you buy a SIM card & internet plan with the phone company called Smart; a green Smart shop is located near the Andoung Tuek bus stop and around Cambodia.
All meals are freshly cooked on site by our talented staff using seasonal locally obtainedingredients. Dietary preferences can be accommodated, simply inform us in advance of your needs and feel free to bring snacks from the city. Coffee and tea are provided at mealtimes, filtered drinking water and electrolyte packets are available throughout the day, and other beverages (soft drinks, local beer and rice wine) are available for purchase.
Guide and Safety
You will be with Wildlife Alliance staff and an English-speaking guide for safety and comfort during your stay, and to answer any questions or concerns you may have. We provide a short safety briefing on arrival and a simple first aid kit is always available however we recommend bringing any specific medications you might require during your stay.
We recommend you bring your own socks and closed-toed shoes (preferably hiking boots) as well as long pants for comfort and safety especially for hikes in the forest. A few pairs of rubber boots are available on site. During the rainy season there are leeches in the jungles and around the animal release enclosures, however, they do not transmit disease and can be removed very easily!
Location and Getting There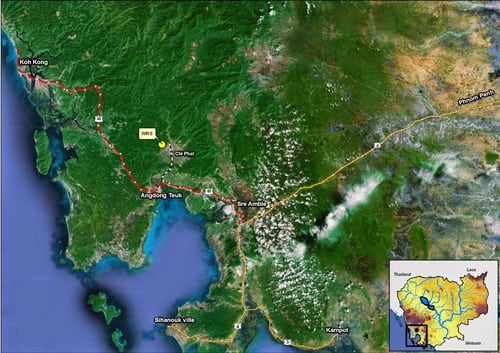 We provide transport to the Wildlife Release Station from the nearest town called Chi Phat, and getting there is all part of the adventure! From Chi Phat, it is approximately half an hour by motorbike on local roads with our experienced drivers, keep an eye out for the buffalos! For your reference, WRS is sometimes referred to by locals as the zoo ("soon sat" in Khmer), or the elephant rest place ("domnak domrei") operated by Wildlife Alliance.
Pick-up from Chi Phat on the day of your arrival is flexible, our motorbikes can meet you as early as 8 AM and as late as 3 PM to transport you to the Station! On the day of your departure, we can arrange to take you to meet your ongoing transport and guests are welcome to stay as late as 1 PM in the afternoon.
By car, you can drive directly to Chi Phat. There is a river crossing and a ferry is available to bring cars across when the tide is high, with the ferry for guests running as often as required!
By bus, please tell your bus company and driver to let you off at the Andoung Tuek bridge, along Highway 48 between Phnom Penh and Koh Kong city, where motorbikes will be available to take you to Chi Phat and we will meet you there! Virak Buntham and Soriya are reliable bus companies; you can book through their local offices, your guesthouse/hotel or a travel agent.
As the exact time of your arrival can be difficult to estimate due to changing traffic and road conditions, please call us during your journey so that we can ensure the motorbikes are prepared and waiting for you! If you are taking a private taxi, please have your driver call us so that we can be in touch to determine your estimated arrival time. If you do not have a local SIM card and we do not hear from you on the day of your arrival when you reach Chi Phat village please go to the CBET office (located a short walk up the main road into the village on the right hand side), there you can instruct the staff at the CBET office that you are meeting the motorbikes to go directly to the Wildlife Release Station and they can give us a call! It will then be a 5-10 minute wait for the motorbikes to come collect you. If you arrive between 12-1 PM there might be limited staff at the office and some staff have limited English, please show them the Khmer text below explaining that you have already booked your visit to stay at the Wildlife Release Station and they will get in touch with our staff to send the motorbikes:
ពួកខ្ញុំបានកក់កន្លែងសម្រាក នៅស្នាក់ការដោះលែងសត្វ។ សូមជួយទាក់ទងទៅលេខសឿន ០៩៦ ៦១៧ ៣៧២៩ គាត់នឹងឲ្យម៉ូតូមកយកពួកខ្ញុំ។ សូមអរគុណ!
We are here to help make your trip smooth and convenient and can help you arrange transport from any starting point.  Please contact us with any questions or concerns on +855-95-970-175 or at wildlifetourspt@wildlifealliance.org.
Book a Tour
If you have any questions, please email us at wildliferelease@wildlifealliance.org or call 095-970-175 (or internationally, 00-855-95-970-175). If you don't receive a prompt response by email, please be sure to call us.
This experience is all-inclusive (with lodging, meals and activities listed above) for a minimum tax-deductible donation of:
• $120 per person per night for the first night, all-inclusive
• $80 per person per night for each subsequent night
• Children under 15 years: $50 per child first night, $25 subsequent nights
*** Please note that during high season (November-March) those booking a single place may be required to share a chalet with another guest on nights when the station is fully booked ***
May to October in Cambodia is the wet season. During this period there can be very heavy rains at the Station! As such some activities may be affected by the weather. Animal feeding will continue rain hail or shine, however to ensure our guests' safety other activities such as walks in the jungle and swimming in the stream may be unavailable.
Please bring wet weather gear, including waterproof bags for any electronics in case of rains during your ride to and from the Station!
In the event of heavy rains we have games and reading material in the main chalet, however be prepared to get wet during your visit!
This is just a friendly warning that one of our male oriental pied hornbills released in November 2018 has begun swooping and attacking visitors. We will provide head wear to deter this behaviour, and keep everyone safe, as staff on site do their best to protect our guests during their stay!
TO BOOK YOUR TOUR, CHOOSE YOUR DATE OF ARRIVAL.
For booking within the upcoming week please call 095.970.175 (Cambodia)
---
[rev_slider alias="rs-gallery" /]
Great retreat back to nature!
Words can't describe this place!
The best thing we did in Cambodia
Once in a lifetime experience