On Wednesday the 27th of March we celebrate World Otter Day! Why, you might ask, would otters be so special that they get a day of celebration in their honour? Unfortunately, as with most things with a dedicated day of celebration, it's normally due to negative reasons. However, let's see if we can steer this ship in another direction!
How many species of otter are there and what are their threats?
There are 13 otter species in the world, with 7 listed as either Vulnerable, Threatened or Endangered. Pey, as they are called in Khmer, are great indicators of ecosystem health and can be used as sentinels for declines of such. Found within all manner of waterways; coastal, freshwater, lakes, rivers, marshes, they are often top predators and key to food webs and maintaining biodiversity. Here at Wildlife Alliance we are proud to be doing our bit for otter conservation. From protecting them in their natural habitats, to rescue, rehabilitation and release, we thought we would walk you through our otter offerings on this auspicious day.
Protecting Cambodia's otter populations
The Cardamom Mountains are home to at least two of the three otter species found in Cambodia, and is the largest intact mainland rainforest in Asia. The Smooth coated and Hairy nose otters have been confirmed with both visual and camera trap sightings. Often elusive and hard to spot in the wild, few studies have been conducted in the area to confirm their abundance. However, we've had a few lucky guests visiting the Cardamom Tented Camp spot a glimpse, as well as some of our keepers at our Wildlife Release Station.
Fighting the illegal wildlife trade
Wildlife Alliance's Wildlife Rapid Rescue Team (WRRT) is Asia's only mobile fill-time wildlife police unit. From container shipments filled with ivory through to individuals online selling otters, and everything in between, WRRT fights the illegal wildlife trade on-the-ground across the entire supply chain. Otters are routinely rescued and confiscated from online sellers touting them as great pets.  However, for anyone who has read our blog on the illegal pet trade, link, you know that is certainly not the case. In addition, they are often used to draw attention at popular tourist sites. An otter out at the front of a restaurant will draw in a crowd, perhaps to pay a few dollars for a photo, or even just to take a look at the menu and order a drink. Once the otters are rescued, depending on their age, health status, and history they will often end up with us at Phnom Tamao Wildlife Rescue Centre.
Rehabilitating otters
Not all of the otters we rescue will be suitable for rehabilitation and release. In fact, the sad reality is most will not. For those with us for life, we will ensure we make it the best life possible, with socialisation, enrichment and all their basic needs catered too. Those we think have a chance, will undergo some rigorous training. Not really, but we will try to ensure they are prepared as possible for the big wide world waiting for them beyond their enclosure. Maintaining a natural fear of humans is the first thing we look out for, and once identified we try to maintain that by ensuring minimal human contact. We also need to ensure they can hunt, so feeding live fish and observing conspecifics is a great way to ensure they are capable of catching their own food. As otters are a social species we also want to ensure we are releasing cohesive and bonded family units, as this is how they would be found in the wild.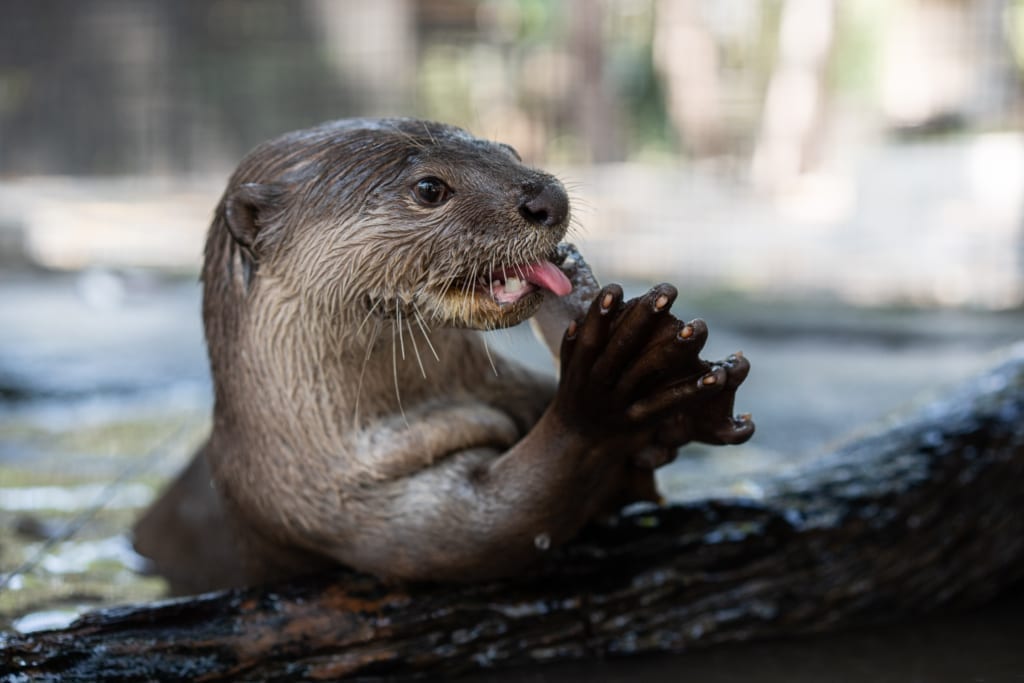 Releasing otters back into the wild
In 2019 (in conjunction with the Forestry Administration and APSARA Authority ) we released our first ever smooth coated otter family into the protected forests of Angkor. The first release of it's kind for us, it hasn't always been a 'smooth' sailing process, however, we have persevered nonetheless. Following a soft release protocol, meaning we continue to offer the releases a safe environment and supplementary feeding, we now have four healthy and happy otters living free. A pair of adults born at Phnom Tamao and their now two pups.  
How can you help Cambodia's otters?
Today we are launching a brand new GlobalGiving campaign raising funds to build a newly rescued otter a specialized enclosure so that he has the best life possible with us! He is unsuitable for release because his previous owners filed his teeth down meaning that now he cannot catch his own fish.
This cheeky chappie also needs a name, so we are giving everyone who donates $50 or more the chance to name him, please put your suggestions in the comments box when you donate and we will pick a winner when we reach the target.