A pileated gibbon that was rescued by the Wildlife Rapid Rescue Team last September is handed over to the team at Phnom Tamao Wildlife Rescue Center. The gibbon was founded chained by the neck after likely being kept as a pet.
Owning an exotic animal isn't an option in many countries. The combination of strong legislation and effective law enforcement makes it almost impossible to own any animal more 'exotic' than a cat or a dog. In Cambodia, the law does generally not permit wild animals to be kept as pets, particularly those classified as rare and endangered species. Despite this, the pet trade runs rampant across the country. So, why is this?
The combination of a lack of law enforcement, ease of purchasing, and a disproportionate penalty all provide the perfect storm for a rising wildlife pet trade in Cambodia. In particular, a recent change in tactics by traffickers means a considerable proportion of the illegal pet trade is assumed to happen through social media, in particular Facebook, by far Cambodia's most popular social media platform. Social media not only opens up the market to a huge audience but it also sensationalises the practice of keeping exotic animals as pets by pushing it into the mainstream. 
Wildlife Alliance's Wildlife Rapid Rescue Team (WRRT) is Asia's only mobile full-time wildlife law enforcement unit. Through almost 20 years of tackling the illegal wildlife trade in Cambodia, the team have witnessed the real cost of the illegal pet trade; macaques chained by the neck their whole lives, tree-dwelling gibbons kept in confined cages, and birds with their wings clipped to prevent from flying away. To date, the team has rescued more than 77,000 live animals from the illegal wildlife trade and arrested almost 3500 traffickers. When possible, rescued wildlife is released into a suitable habitat, taken to our Phnom Tamao Wildlife Rescue Center for a period of rehabilitation, or provided sanctuary for life if they are not suitable for release.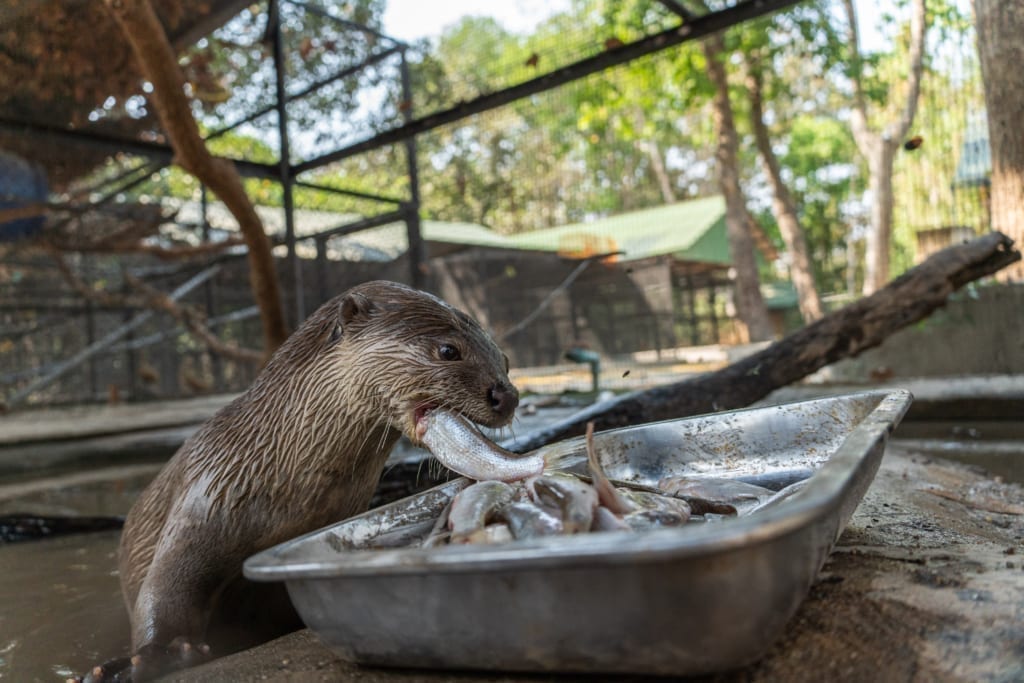 This smooth-coated otter found with its teeth filed down is just one of many animals that is a victim to Cambodia's thriving illegal pet trade.
A recent addition to Phnom Tamao demonstrates the true brutality of Cambodia's illegal pet trade. Recently, the WRRT received a call from WWF Cambodia about a smooth-coated otter they had confiscated in Mondulkiri, eastern Cambodia. The otter was being kept illegally as a pet and in order to protect its owners from its sharp canines, its teeth had been filed down. With an anaesthetic? With pain relief? Undoubtedly not. It's likely this otter suffered tremendously for the convenience of its owners to domesticate a species that was never meant to be kept as a pet.
The example of this one otter is just the tip of the iceberg of Cambodia's illegal pet trade. Teeth removal, as in the case of slow lorises and otters, claw removal from big cats, and scent glands removed from skunks; the lengths that people go to is unbelievable! And that's just one aspect of the trade. Removing animals from the wild normally involves killing or capturing not just one individual, but perhaps also a parent, a family unit, a flock, a raft, or a whole herd. 
Whilst it's not always feasible to see them with your own eyes, the wonder of film and photography ensures we can all still enjoy, learn, and appreciate wildlife from the comfort of our own homes. As animal lovers sometimes that is hard; we want to touch, to hold, to see, to experience. However, the wildlife pet trade has become all about our own gain. It cannot be ignored what the illegal pet trade is depriving these wild species of.