The tiger is the world's largest cat and is currently listed as Endangered by the IUCN. Just 100 years ago, there were as many as 100,000 wild tigers in Asia, but today, there are less than 3,000. In the last 80 years, three of the nine subspecies have gone extinct, and the future of the other six remain dire.
Meet Araeng
Araeng is one of the few animals born at PTWRC that had to be hand-raised. Most of the animals at PTWRC raise their own young, which is a testament to the excellent care they receive. However, Araeng's mother had arrived shortly before he was born and was extremely nervous and unable to care for him at that time. Araeng had to be hand-raised by Wildlife Programs Director, Nick Marx, until he was able to return to the tiger enclosure as an adolescent. Now an adult, Araeng is very playful but can be shy among strangers and only trusts his keeper, Mr. Rong, and Nick, who raised him.
---
A Species on the Verge of Extinction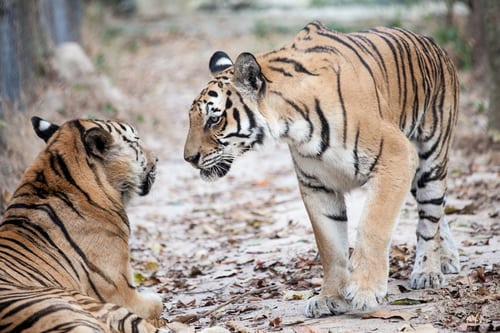 Tigers once roamed the entire continent of Asia, but with human expansion they have lost over 93% of their original range. They now survive in small, isolated pockets of forest, where they are vulnerable to poaching and inbreeding. The primary threats facing tigers are habitat loss, depletion of prey species and poaching. As forests shrink and prey species become scarce, human-tiger conflict increases. And while there has been a ban on the international commercial trade of tigers since 1975, insufficient enforcement by the Convention of International Trade in Endangered Species (CITES) has led to sustained poaching. The illegal trade of tiger parts remains a lucrative business, with their bones, meat and skin valued at around $70,000 on the black market. In China, Vietnam, Lao PDR and Thailand, captive breeding facilities have been allowed to proliferate with little oversight and regulation. These tiger farms contribute to the commercial trade of the tiger parts, while passing as conservation breeding facilities.
4 Ways You Can Help Tigers