Sponsor Chhouk for quarterly updates! 
If the story of Chhouk's rescue and ongoing care has captured your heart, consider sponsoring him for yourself or as a gift for the elephant lover in your life! The valuable funding from our sponsorship program supports the care of Chhouk and our other rescued animals.  If you choose to sponsor Cambodia's first elephant with a prosthetic leg, you will help to provide him with daily care, the finest watermelons, sugar cane, grass, veterinary attention, and new prosthetics. Your support means he'll enjoy a life worth living, even if he cannot return to the wild.
Gift him a bucket of watermelons! 
Who doesn't love some juicy watermelon on a hot day?! Chhouk definitely does! You'll make him very happy and get an e-certificate to say thank you. It makes a great birthday gift for that person who has everything already.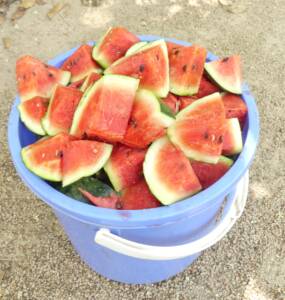 Chhouk's story as a beautiful children's book
Incredible author, Laurel Neme and illustrator, Ariel Landy collaborated with Nick Marx to adapt Chhouk's heart pulling story into a book for children. Published by Scholastic, it captures the hearts of young readers and their parents. 
'This touching TRUE story of triumph and compassion will appeal to any child who loves animals (especially elephants). It's written in such accessible, vivid, careful language. Even kids with the tenderest hearts will be able to handle the story. They'll feel moments of sadness and fear for the sweet little elephant, but the joy of watching him overcome his challenges more than makeup for it. In short, this story is very well told, with plenty of elephant facts for curious kids, and it's gorgeously illustrated.' – Amazon Reviewer 
Join our Patreon Community
Our Patreon page gives YOU access to exclusive behind the scenes content from Chhouk and all the other animals at our Phnom Tamao Wildlife Rescue Center. Nursery updates, high quality videos and animal wallpapers are just some of the fun things we're offering our Patrons. Our dedicated team cares for more than 1500 animals rescued from Cambodia's relentless illegal wildlife trade. By supporting our work through Patreon, you'll be supporting our team to carry on rescuing and caring for Cambodia's wildlife. Join today, and you'll have instant access to three years worth of content!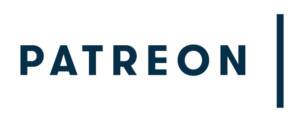 Become our Biggest Fan!
Supporting us doesn't have to cost any money; become our biggest fan on our social media channels and help spread the word to more people. Our posts reach further when we have more likes, shares, and comments, so one of the easiest ways to support us is to give us a thumbs up on our posts.
Made it this far through? Thank you so much! Although the ongoing care of Chhouk is just part of caring for all of the animals at Phnom Tamao, he is a brilliant ambassador for the fight against snaring in Cambodia. His story connects people in the country and worldwide with the scale of the snare crisis. Spread the word, and hopefully we can make a change!