It's been a while since our last update from the  Angkor Wildlife Release Project. The World Heritage site's been quiet, but we've been busy behind the scenes monitoring and releasing animals! 
Our project at Angkor began in 2013 as part of an initiative to release wildlife into the Angkor Archeological Park.
Since then, around 40 animals have been released, from primates like gibbons and langurs, to carnivores like otters, civets and leopard cats. A lucky pair of Pileated gibbons, were the first animals to be released at Angkor, and there are currently a total of 3 gibbon pairs living in the forest! To date, six babies have been born in the forest in Angkor. With any luck, these babies will go on to have families of their own! Pileated gibbons are globally Endangered, making these families important for the conservation of the species. We conduct 'soft-releases' following IUCN protocols. Released animals are free to roam the forest but are provided with supplementary food, which encourages them to stay in safe areas of forest away from areas of the Park with lots of people and enables us to conduct long-term monitoring. The supplementary food is provided for gibbons on feeding stations placed within safe areas.
Let's catch up on what our gibbon families have been up to!
The Gibbon Saga: territoriality, sleeping on the roof and re-capture
Baray and Saranick were our first pair of gibbons released in December 2013. They had their first baby, Ping-Peeung (Meaning spider in Khmer) on the 3rd September 2014 and have also gone on to have 2 more wild born offspring. Their most recently born offspring turned 1 year old on the 30th March 2021!
Ping-Peeung is now 6 years old and the keepers have observed, over the past 8 months, her parents, especially Baray, pushing her away from the family unit with increased tensions at meal times. During meal times, Ping-Peeung would retreat to lower branches in the tree close to the feeding platform and take food only after mum, dad and babies had finished eating.
Naturally, gibbons live in a small family unit, with one or two of their most recent offspring. Older offspring usually leave the family unit to form their own territories and find a mate when they become sexually mature.
This behavior was solved briefly by the addition of one more feeding platform about 40m away, allowing Ping-Peeung to eat alone, without competition from her parents and younger siblings. On 22 December she found her way into a village in Angkor. She ended up sleeping in the rafters of a villager's house! We do not want to encourage our gibbons in Angkor to enter villages or become familiar with people, so on the 25th of December we captured her. Quite the unexpected Christmas surprise!
How we release Pileated Gibbons
We release gibbons using a soft-release method, meaning that pairs of gibbons are selected and moved into an enclosure in the area where they will be released so that they can get used to their surroundings. The keepers assess their behaviour during this time to ensure that they are settling well and not displaying any behaviours that would be detrimental to their release success. 
Following this the released animals will be provided with supplementary food and will be monitored to ensure their continued well-being.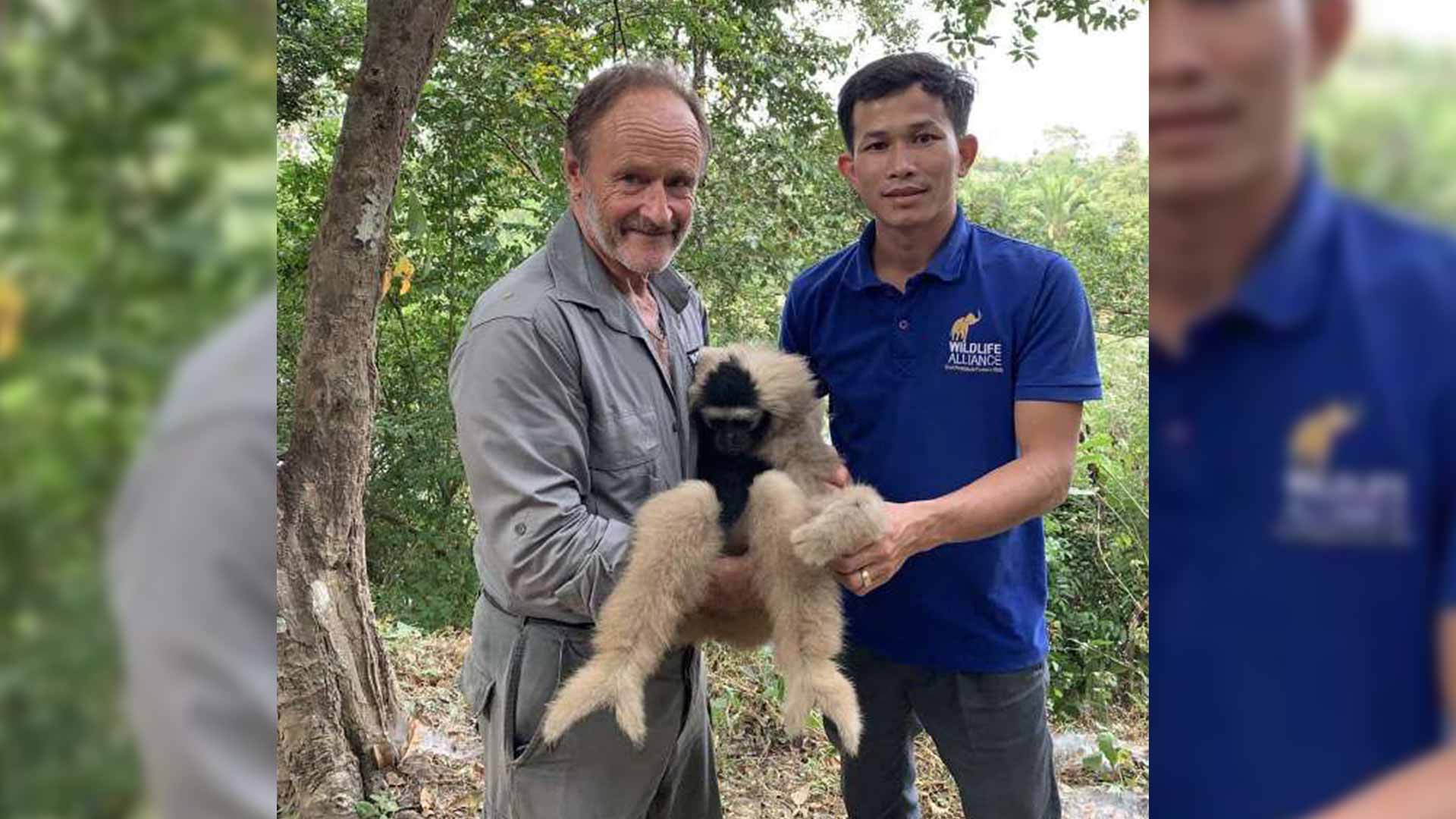 Luckily, a natural solution appeared when Ping-Peeung, the first female born at Angkor, was captured from the villager's roof! On that same eventful Christmas Day, Ping-Peeung took Santamea's place as Bakheng's mate. Santamea was returned once again to Phnom Tamao, and has settled into an enclosure under the expert care of the keepers there.
While Santamea's chance in the wild didn't work out, it did allow for a new relationship to flourish! Angkor's new fourth pair, Ping-Peeung and Bakheng have formed a very strong bond over the past 5 months, a very promising sign for their future release! Watch this space! Hopefully Ping-Peeung can teach him a thing or two about wild life in the forests of Angkor!
Pileated Gibbon Mothers
Female gibbons have an important role in the family unit, making decisions on foraging and food acquisition. Grooming and singing play important parts in reinforcing family dynamics.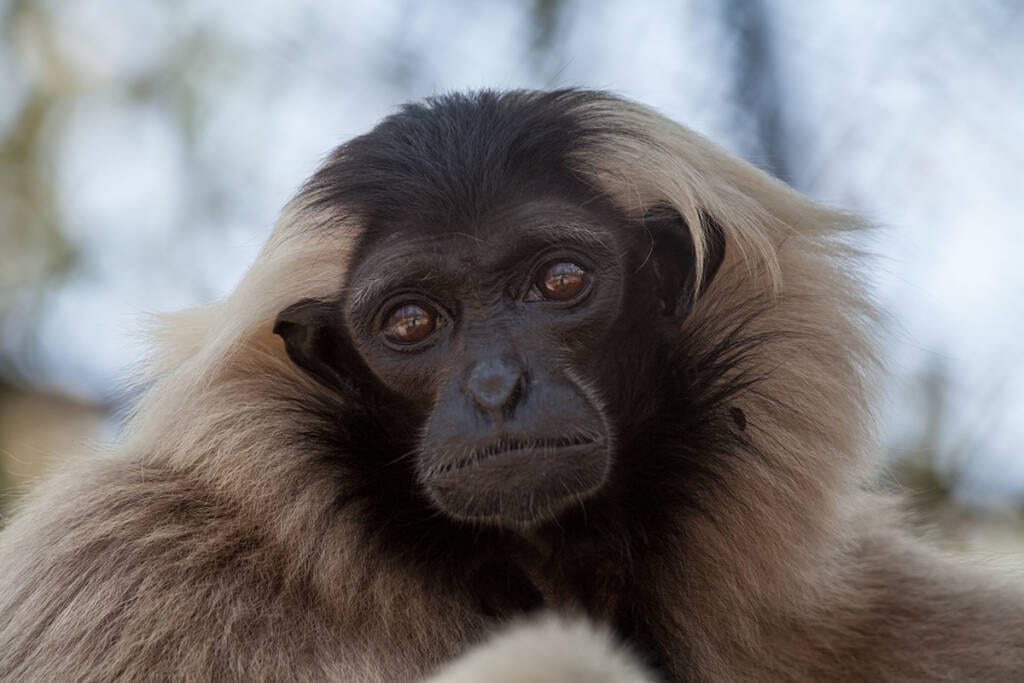 What about the other Gibbons released at Angkor?  
On 30th June 2015, Angkor's second Pileated gibbon pair, Bayon and Tevy were released. Read more about their release in our blog here. First pair, Baray and Saranick were a hard act to follow: they have so far produced three babies at Angkor! But despite their 18 month headstart, Bayon and Tevy caught up, producing three babies of their own! The youngest, Dun-kow, was born on the 31st August 2020.
On the 1st of July 2020, the third pair, Borei and Pompoy were released at Angkor. They are both doing really well so far, adapting to the new forest environment, whilst hanging nearby the release site and feeding station. Read more about their release in our blog post here.
What about other animals released at Angkor?
Evasive otters
In November 2019, a family of three smooth-coated otters were released at Angkor. Today, this striking otter species are globally vulnerable, but back in the day, they would likely have been regulars in Cambodia, especially in Angkor's productive waterways.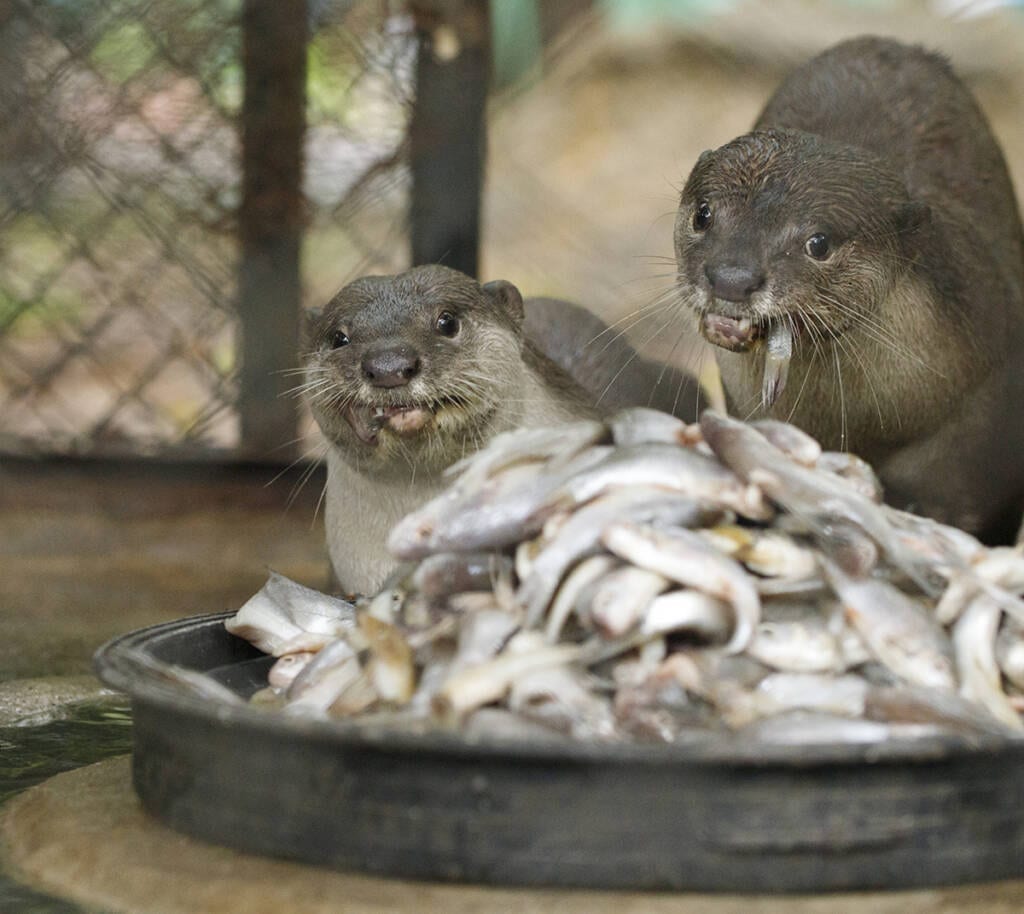 In just a few months, the otter family settled in and quickly got down to business! In February 2020, two pups were spotted feeding with their parents.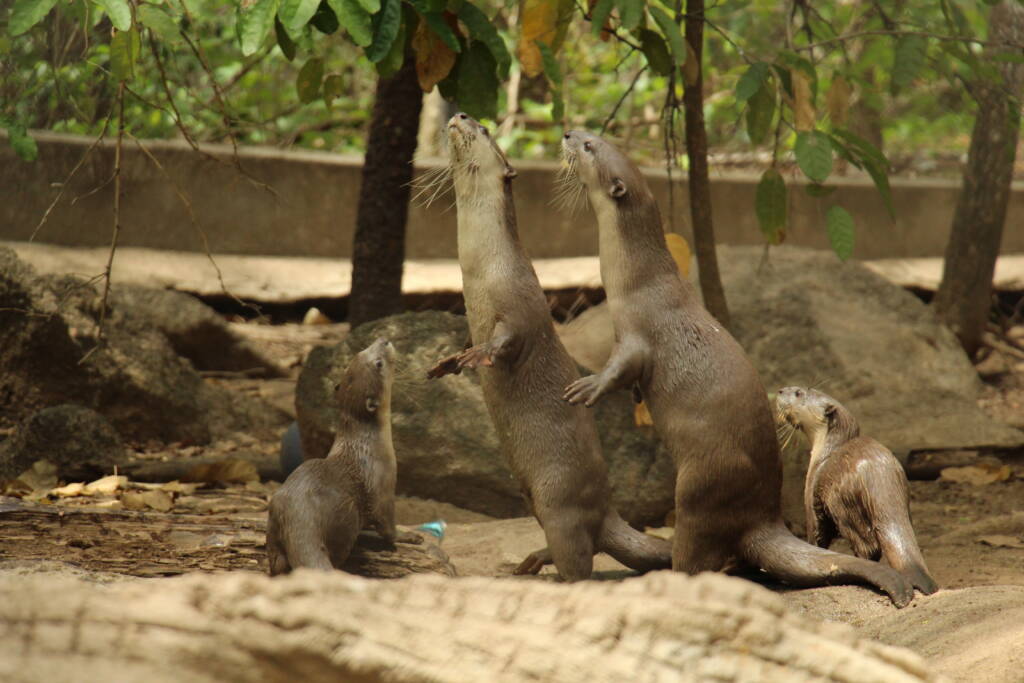 And there's more good news: the otters are becoming wilder by the month! The wild-born pups are now over 1 year old and it's difficult to tell them apart from their parents! The bad news? One of the adults doesn't always show up for their supplementary twice daily feeds, but we hope this is for a good reason. The otter family used to have three main holts (or dens) where they would sleep-  perhaps they have made a fourth that we haven't discovered yet! This new beginning is a happy ending for rescued, otters who might otherwise have languished in cruel "otter cafes" across Asia, or kept in unsuitable conditions as pets in Cambodia.
Iconic hornbills and adventurous leopard cats! 
While all animals released at Angkor previously were mammals, last year we released our first birds! Parakeets are a common sight (and sound!) around temples and pagodas within the Angkor Archeological Park, but once upon a time, iconic hornbills certainly flew above the forests. These majestic birds, which could be called the toucans of Asia, feed on fruit and are important seed dispersers – planting more forest as they go!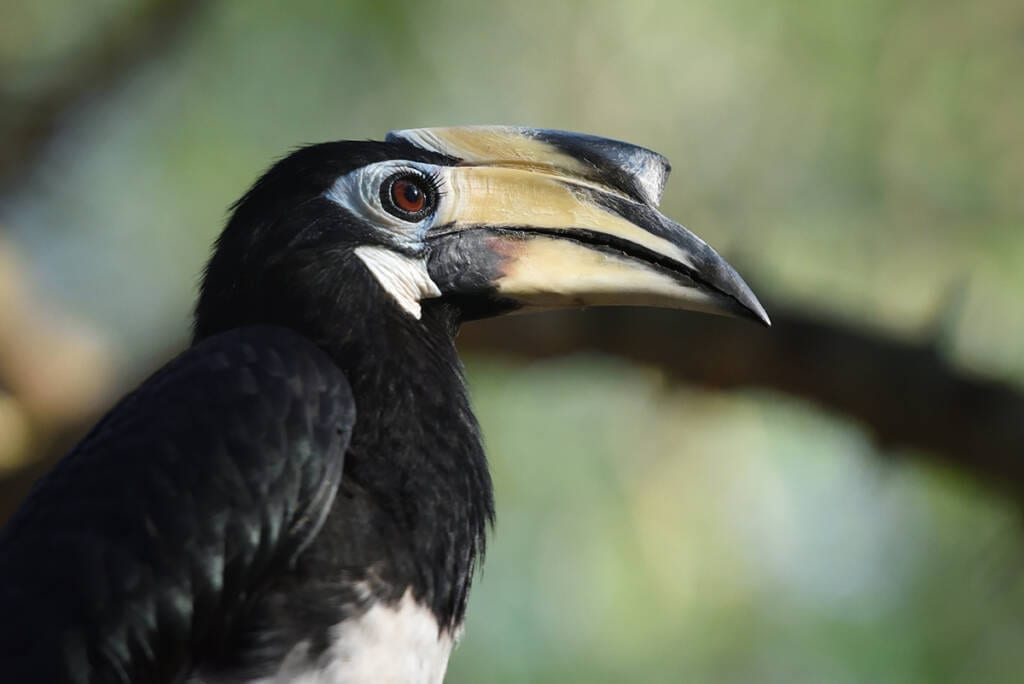 On 1st October 2020, we transferred 2 Oriental pied hornbills into a prerelease enclosure within the ancient forests of Angkor. After two and a half months, the door to the hornbill enclosure was opened and the pair left three days later. They have not returned for any supplementary food, perhaps because fruiting season was in full swing, meaning rich pickings for hornbills! They are occasionally spotted by keepers flying high above the forest, just like in ancient times!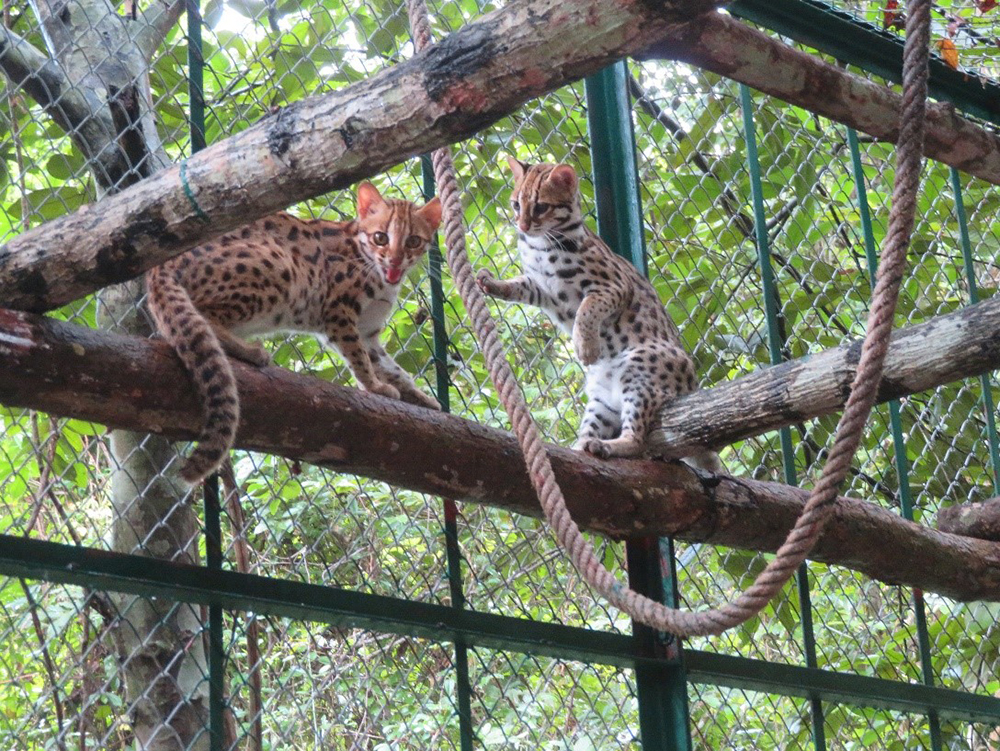 Survivors from the cruel pet trade
The hornbills and leopard cats were all rescued from the pet trade in Cambodia. The hornbills and the female leopard cat were rehabilitated at Phnom Tamao, while the male leopard cat was hand-raised at the Wildlife Release Station in Koh Kong. He was brought to Angkor because he killed a hornbill we had released there. After all, leopard cats, like all cat species, are predators!
To guard against repeated predation on the hornbills, the leopard cat pair were released from a different site within Angkor than the Oriental pied hornbills. Their release happened on the 2nd December and the leopard cats have not been seen since. However, we have released many leopard cats since 2004, including an adult pair with 2 dependent kittens released at Phnom Tamao that were monitored with radio collars, and they all did fine. There is no reason to think that this pair fared any differently in Angkor. This is the norm for a cat release and a good sign that they are adapting to their new forest home! Read about it in Cambodian national paper, the Khmer Times . here
Final thoughts on our release program at Angkor Archeological Park
So while Angkor is not receiving the human visitors it used to, that hasn't stopped us from releasing wildlife into the forests of this World Heritage UNESCO site to restore some of its long lost natural inhabitants!
And the release project at Angkor continues! Together with the relevant government authorities, Apsara National Authority and the Forestry Administration, we aim to make Angkor Archeological Park a safe haven for wildlife once more!
Your contribution gives rescued animals a second chance at life in the wild! Thanks for your support!