The Wildlife Release Station, which is designed specifically for the rehabilitation and release of rescued animals, recently released a captive born male pangolin.  The Sunda pangolin is critically endangered so every successful release of this species is a major triumph for both Wildlife Alliance and the species.  Pangolins are extremely sensitive creatures that rarely survive in captivity.  The release station, however, far from the smog and noise of the city, is an ideal place for our rescued pangolins to recover.  Our dedicated keepers go out into the forest every day to collect fresh ants for the pangolins and ensure they remain in a stress free environment.  This young pangolin was born at the center to a mom who had lost her foot to a snare and unfortunately cannot be released.  The young male was ready to be released at the beginning of the year and was fitted with a transmitter, which are always attached to animals before they are released with sufficient time to ensure it is working well.  However, after the pangolin was fitted with a transmitter, conditions were unusually dry because of an unrelenting severe drought.  Just to be safe, we decided to wait until environmental conditions improved, which resulted in the transmitter being attached three and a half months before the rains began again.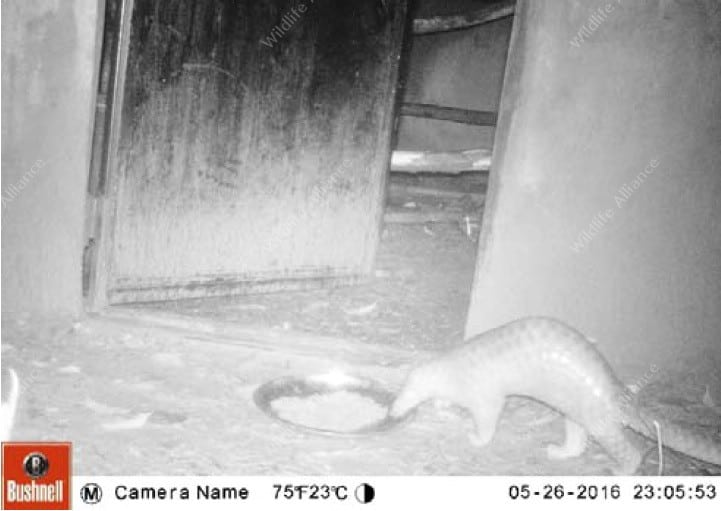 Wildlife Alliance executes 'soft' releases that allow the animals to become acclimatized to their new environment.  By providing supplementary food and monitoring the animals' behavior after release, we have dramatically increased survival rates.  Unlike other pangolins we have released, this pangolin returned to his enclosure most nights during the first week of his release and ate the ants we provided for him outside his enclosure.  We think that because he was captive born and his mother was still being cared for at the center, this pangolin was different.  However, he soon began moving further into the forest and into denser vegetation, always moving at night and hiding in a tree hollow or hole in the ground during the day.  About a month after his release, the signals from his transmitter became weaker and eventually stopped transmitting.  The transmitter batteries likely died prematurely as a result of the transmitter being attached so early prior to his release.  Despite his slow start, we are happy this little guy is getting along well in the wild, and giving this critically endangered species a hope for survival.
You can learn more about how Wildlife Alliance cares for and releases rescued wildlife by booking a tour to stay at the Wildlife Release Station in Cambodia!  There, you can help keepers track and monitor the collars and transmitters of released wildlife.  But you don't have to go to Cambodia to help; you can sponsor this pangolin's mother, Lucy, who will remain at the Rehabilitation Station due to her injuries.  Her offspring will join this young male in the wild and help recover the critically endangered Sunda pangolin population.