The villagers of Sovanna Baitong, home of Wildlife Alliance's Community Agriculture Development Project, have not had water in their reservoir since March due to Cambodia's worst drought in 50 years.  Thankfully, the tides turned in late July when Mong Reththy Group and Wildlife Alliance revealed a new and improved reservoir in the village.  The two groups held a ribbon cutting ceremony on July 29th to reveal the upgraded facilities, which was attended by local authorities and 150 villagers.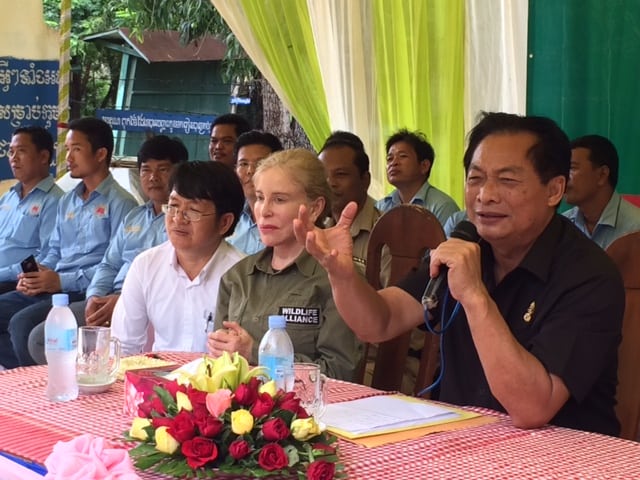 With the reservoir completely dry for the first time, His Excellency Oknha Mong Reththy came to the rescue of the families in Sovanna Baitong by helping Wildlife Alliance retrofit the water reservoir.  In addition to deepening the reservoir, a vital spill gate was also added.  Mong Reththy also helped complete the construction of a new bridge and upgrade the 2.5 km access road.  The businessman felt a personal responsibility to help the village, and stressed the importance of giving back to local communities and contributing to Cambodia's rural development.  Suwanna Gauntlett, Wildlife Alliance's founder and CEO agreed, noting that "this partnership will help boost economic development and reduce poverty in the Southwestern region."
As there is no foreseeable end to climate change, the people of Sovanna Baitong can expect more droughts in their future.  Now, with the ability to store rainwater during the wet season, they will be better equipped to deal with the changing weather patterns.
To help rural communities in Cambodia build resistance to climate change, visit our donation page and select Sustainable Livelihoods from the menu.