When we rescued You-bee  in February, one black-shanked Douc langur was a surprise. So imagine our shock when over the following four months we received a further three! With only 25 individual douc langurs rescued over the last 10 years, and then this year six in five months, it brings great concern about how and why we have seen such an increase in the illegal trading of these critically endangered primates.  
What are douc langurs?
The three species of douc langurs are some of the most beautiful primates in the world, but unfortunately are all classified as Critically Endangered by the IUCN, their status changed since our Endangered Species Spotlight in 2017. Once widespread and common throughout their range, populations of all three douc langur species have been severely reduced and fragmented due to human pressure. Black-shanked Douc langurs are geographically restricted by the Mekong River to the west and are only found in Vietnam and Cambodia. 
Hunting and deforestation have caused the most impact to their population numbers and recently we worry that further deforestation has occurred in the area where these rescues were born, making the population more accessible to poachers. The adults would have been killed for meat and medicine and the babies sold into the pet trade. 
Cambodia has 12 native primate species and 11 of these are on the IUCN red list. Our Wildlife Rapid Rescue Team works 24/7 to rescue primates from the illegal wildlife and pet trade and halt further extinctions.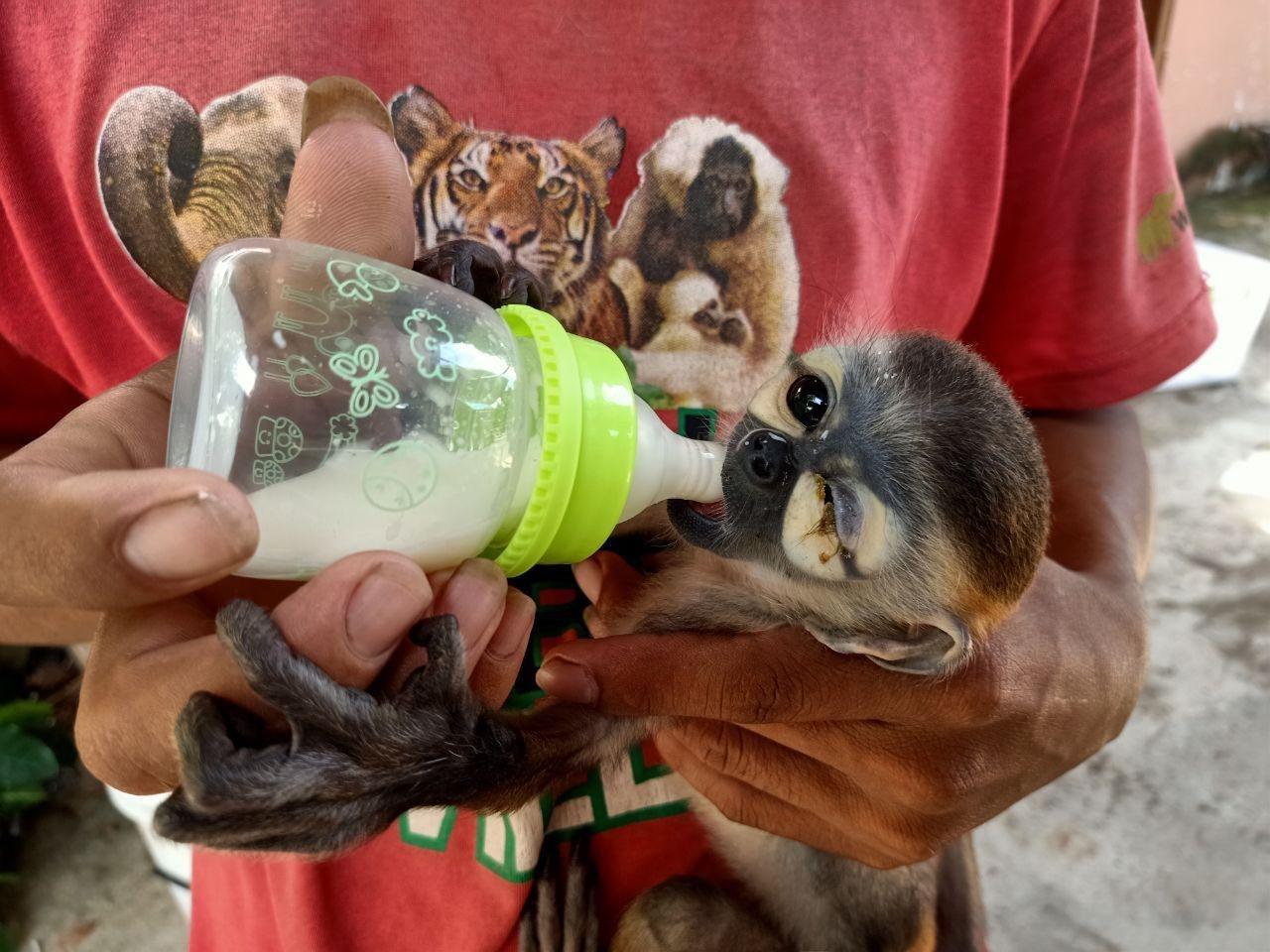 UD who was rescued by our Wildlife Rapid Rescue Team (WRRT) in Ratanakiri province, northeast Cambodia.
In May You-bee received her first playmate. A male rescued by rangers in Mondulkiri province in the far east. A bit smaller than You-bee and not as confident, initially he was very vocal and clingy with the keepers. We let the two socialize initially, getting stretches outside of their enclosures in the nearby trees under the keeper's supervision. However, at first You-bee was a bit too boisterous for the little man, nicknamed UA (because You-bee = UB) so we returned them to individual play and exercise time until he could get a bit bigger and stronger. Now he can stand up for himself enough and they enjoy playing and exploring together. 
A couple of weeks later the pair were joined by the third member for the quartet, UC, who was also rescued in Mondulkiri province. She is a bit older than her counterparts and arrived with a tail injury that resulted in a surgical procedure and partial amputation, however, we are pleased to report she has recovered well. And then the latest addition, UD, joined them only a few weeks later rescued in Ratanakiri in the north-east. UD is the smallest of the bunch and still is too small to join and play with the other 3 but is growing fast and soon will be moved to the bigger enclosure to explore. 
Now we have four beautiful infant black-shanked Douc langurs in our care, three females and a male. We're still treading carefully, concerned these fragile little ones may not make it, but we're quietly hopeful for now. These four, being hand raised, will likely be destined to a life in captivity. However, at least for now, little You-bee will no longer be alone. We have the beginnings of a small troupe that will hopefully one day grow to include generations that may be suitable for release in the future through a captive breeding program. 
It is wonderful watching the four grow and play together, creating bonds, getting into mischief and shrieking at the keepers for evermore tasty leaves! At Phnom Tamao Wildlife Rescue Centre we work closely with the Cambodian Government's Forestry Administration and they are currently in the process of building a large enclosure within the 6000-acre forest where the four will be housed for the foreseeable. The enclosure will enable them to exhibit natural behaviors, fully develop their natural agility, and most importantly give them the second chance that they deserve. 
If you would like to donate towards the care of these amazing primates and receive exclusive videos and photos of their progress, please take a look at our Patreon page. Your support would mean a lot to us and a whole world to the Doucs!