In early March, Wildlife Alliance learned that a large tract of the forest surrounding Phnom Tamao Wildlife Rescue Centre was to be allocated for development. This news was alarming as we have run our Care for Rescued Wildlife Program at the Centre since 2002, partnering with the Forestry Administration to improve standards of care, survival and release rates for rescued animals. With the support of generous donors like you, we have built hundreds of large, natural enclosures over an area that now covers approximately 400 hectares enclosed by a fence. Every year many animals native to Phnom Tamao's dry dipterocarp habitat, including rehabilitated rescues and captive-bred threatened species, are released directly into the approximately 2,300 hectares of forest in which the Centre sits. Released populations of IUCN Red-Listed Endangered species such as Eld's deer (Recervus eldii siamensis) and Indochinese silvered langur (Trachypithecus germaini), and Vulnerable species such as sambar deer (Rusa unicolor) now reproduce naturally and have wild-born offspring in the Phnom Tamao forest. Phnom Tamao's wildlife includes hundreds of animals from dozens of species that have been released from the Centre, endemic populations that have flourished there because we have protected it well for years, and flocks of migratory birds that return each year to enjoy this oasis of lakes and trees amidst ever growing urbanization as Phnom Penh's concrete jungle spreads.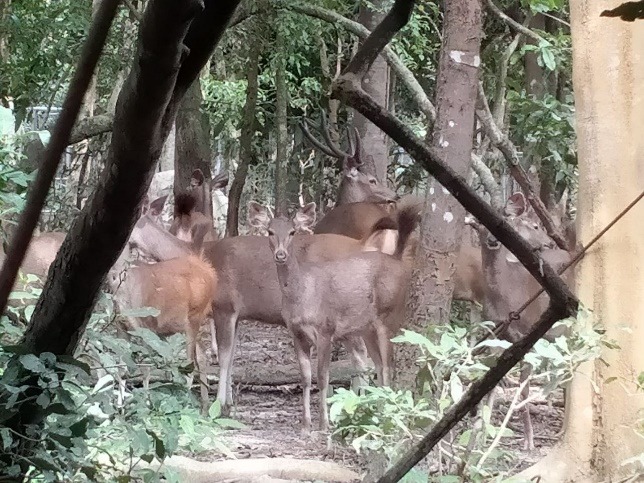 Herds of released sambar deer in Phnom Tamao forest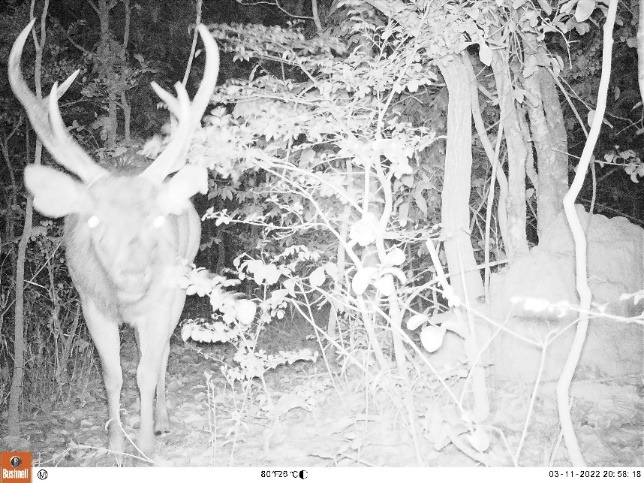 Released sambar stag in Phnom Tamao forest, camera trapped in March 2022
Needless to say, we were extremely concerned when we discovered plans were in the works to develop this rich and biodiverse forest. Using all means at our disposal, we immediately began to investigate and to lobby for the forest to be preserved as a wildlife sanctuary with limited conservation-friendly development such as hiking trails and ecotourism sites. Phnom Tamao lies only about 10 miles (16km) as the bird flies from the new Phnom Penh airport currently under construction and is just a 25 mile (40km) drive from the capitol. Eventually we learned that while the Rescue Centre itself would be preserved, the remaining 1,900 hectares of forest was to be 'developed' – destroyed to build a satellite city. Exact details were vague, but three companies apparently involved in these plans were named in the press.
A Social Movement to #SavePhnomTamao
My boss, Nick Marx who is Director of Wildlife Rescue and Care Programs, and Wildlife Alliance Founder & CEO, Suwanna Gauntlett, launched an all-out campaign to Save Phnom Tamao, appealing to Prime Minister H.E. Samdech Hun Sen to intervene. Wildlife Alliance produced dozens of videos and social media posts, such as this 'Forest at Phnom Tamao could be cleared' video, coordinated with allies and liaised with reporters to help raise public awareness about the threat to the forest. I have never been prouder of the people with whom I work, nor more fearful that such an iconic part of Cambodia's natural heritage would be destroyed.
Despite knowing for months that Phnom Tamao was under threat, it was still a horrible blow to learn that bulldozers and excavators had suddenly appeared during the last weekend of July and the forest was rapidly being razed. Our staff took dramatic drone footage of the clearing, which was widely shared on social media and in the press to raise alarm bells. Images taken by the European Space Agency's Sentinel Satellite showed 130 hectares of forest destroyed within 5 days and local villagers reported they saw our sambar deer fleeing the bulldozers, bounding into adjacent plantations – and they heard gunshots fired that night.
When the news broke, I was on holiday in Vermont visiting family. In a state of shock akin to the moments after learning a loved one has died, I called Nick, who has poured so much heart, soul and sweat into Phnom Tamao. I spent many hours grieving, weeping tears, both heartbroken and bitter, for the thousands of animals Wildlife Alliance has rescued, loved and released into that forest. Each morning I would learn what had happened at Phnom Tamao while I was sleeping, and message colleagues and friends as we mobilized our social networks to beg the Prime Minister to halt the destruction and protect the remaining forest.
The public outcry was almost as swift as the clearing. Within days, tens of thousands of people posted comments on the Prime Minister's Facebook page, and outraged Cambodians who are entirely unaffiliated with Wildlife Alliance organized a boycott of the companies behind the development. That weekend I went camping in a pristine state park in my homeland, going offline to digitally detox from the events unfolding on state forestland in my adopted country. I expected even worse news upon my return and reconnected to the internet with dread. Amazingly, the 'Kingdom of Wonder' never ceases to surprise me, even after a decade of living here.
Cambodian Prime Minister and Royal Sub-decree Protect Phnom Tamao Forest
On August 7, the Prime Minister announced on his Facebook page that all development permits for Phnom Tamao are canceled, the forest is to be protected and conserved, and the companies that cleared the trees must reforest the area. He cited "a lot of requests to the Royal Government to keep the forest around Phnom Tamao zoo" as influencing his decision. Sadly, a total of 530 hectares of Phnom Tamao forest was destroyed in the week prior to his proclamation, but the following day replanting started in that area. On August 19, King Norodom Sihamoni signed a Royal Sub-decree creating the "Phnom Tamao" Zoological Garden, Protected Forest and Botanical Garden. The new protected area covers 2,025 hectares, including 474 hectares for the Rescue Centre, 1,021 hectares of forest that was saved from destruction, and the 530 deforested hectares that will be replanted as a botanical garden.
The news has been met here with joy and renewed hope for wildlife conservation in Cambodia. When strangers learn where I work now, they thank me for all Wildlife Alliance does. Support from donors like you is what makes this work possible. Thank you so much.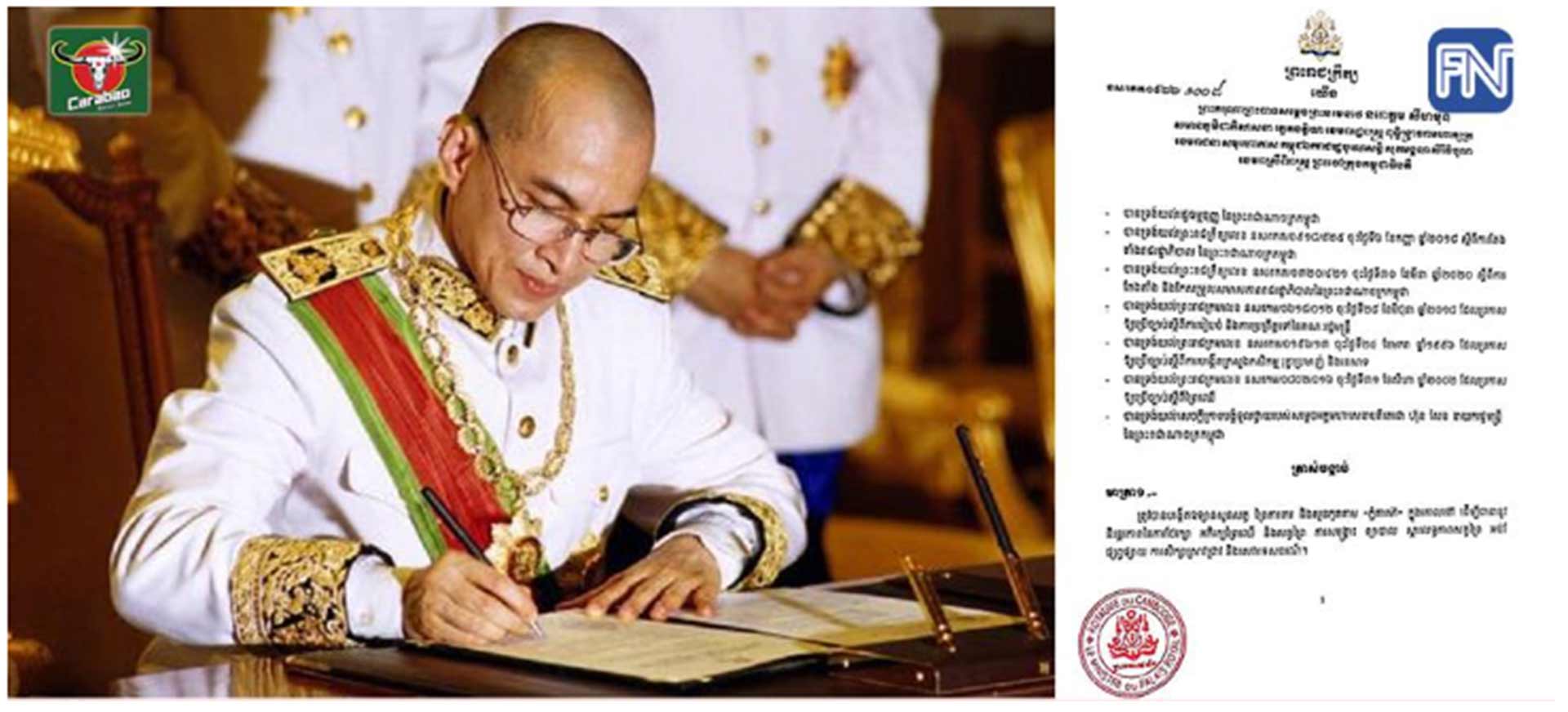 King signing Phnom Tamao Sub-decree (credit: Fresh News Asia)
Grants Manager/Community Conservation Technical Advisor