The illegal trade is not only decimating wildlife populations but is also inflicting great suffering as every aspect  from capture, to transport and ultimately slaughter is extremely cruel and will be conducted without any regard  for the individuals involved. In 2001, Wildlife Alliance partnered with the Cambodian government to create a  special wildlife crime investigation and counter‐trafficking unit known as the Wildlife Rapid Rescue Team  (WRRT). The team consists of Wildlife Alliance staff, Forestry Administration (FA) officials and Military Police who are committed to combating the illegal wildlife trade throughout Cambodia.
We have an informant network providing information, which is now paid on the basis of the quality of  information we receive. We also have a Wildlife Alliance Wildlife Hotline through which members of the public can  speak directly to Mr. Khem Vuthyravong, the WRRT  manager, to give information regarding wildlife being  illegally held. Often this information brings results in the  form of confiscations or donations as Cambodians and  visiting foreigners make efforts to protect our wildlife.
WRRT provides humane care to confiscated wildlife while  in transit and, if appropriate, immediately releases the animals back to natural habitat in a safe location. Wildlife  which is injured, sick, or habituated to humans is  transported to Phnom Tamao Wildlife Rescue Centre  (PTWRC). The WRRT has rescued more than 65,000 live  animals and confiscated over 30 tons of wildlife products  in Cambodia since 2001, disrupting the wildlife trade in  Cambodia by up to 75%. Traders are either arrested and  sent to prison or handed down hefty fines.
Rescues by WRRT during the third quarter of 2017 include 1 black bear, 1 sun bear, 13 common palm  civets, 21 macaques, 2 smooth‐coated otters, 1  crocodile and other reptiles including many  pythons, tortoises, turtles, monitor lizards and  cobras. Many birds including 1grey‐headed fish eagle, 1 black‐shouldered kite, 2 brown fish owls and 3 Oriental pied hornbills were also rescued.
Dead animals confiscated were mostly birds, which  have a high mortality rate during capture and  transport due to cruel handling by their captors, or  turtles and snakes that had already been killed.
A summary of WRRT results is as follows:
1,087 live animals rescued, including donations
1,364 dead animals confiscated. These were mostly birds and reptiles.
877 animals released.
168 kg meat confiscated.
183 operations conducted, including receipt of donations
43 traders apprehended.
$6,268 taken in fines – 2 vans, 3 motorbikes confiscated
861 animals were released by the WRRT during the past three months. 655 of these were immediately released by the team following confiscation. 132, mostly pythons, monitor lizards and macaques came from PTWRC.
The 24 hour Wildlife Alliance Wildlife Hotline has proved an extremely successful way of obtaining information regarding the illegal trade. It is manned by Khem Vuthyravong, the WRRT manager. The Hotline received a total of 594 phone calls during the quarter, of which 325 came from our own informants, 74 came from local Forestry following a time of care. 74 snakes and turtles confiscated by FA were released in a joint operation.
Administration offices requiring our assistance or giving us information and 195 calls came from the public, either with information or the donation of an animal. Calls from the public came from both Cambodian citizens and foreign visitors. The hotline is our private line, manned by WRRT Manager, Vong and is well advertised throughout the country, and demonstrates the effectiveness of this method of receiving information.
The following are some of the operations conducted  by the WRRT during the past three months:
Early morning on Sunday July 2nd WRRT MP Mr. Sorn  Lin was tipped off by his informant that a suspect  van was travelling along National Road 6, heading toward Phnom Penh. Sorn Lin, along with project  manager, Vong, followed the van, while the informant  worked from a distance to ensure the suspect did not  escape.
At 6:45am the vehicle arrived at Olympic Market,  where a known trader's house is located. Sorn Lin  stopped the van, calling for back up from other team  members. The driver was taken to the Phnom Penh FA  division office. Baskets inside the van held numbers of  live snakes. The offense was documented and the driver was questioned and fined just $35 as the species involved  were common. The snakes were later released back into  natural habitat at two locations in Takeo province.
On July 4th the WRRT, on operations in Sihanouk  province, responded immediately to information from  informants and travelled 60 kilometers to ambush a  suspect car along National Road 3 to Kampot. The vehicle was finally intercepted after it came to a halt with a flat tire along a small village road. After a brief search  a live pangolin was found inside the truck. The  offender was questioned at the nearby FA office in  Veal Rinh and charged with illegal transportation of  an endangered species.
He was fined $1,023. The  pangolin was taken to our protected area in Koh Kong  and released the same day.
Later in July information was received concerning a Cambodian citizen transporting rhino horn through  the Phnom Penh International Airport destined for  China. Four members of the team joined with Customs officials, apprehended the gentleman and seized his contraband, which in the event turned out  to be fake.
On August 5 th the WRRT inspected restaurants owned by  the Prime Minister's sister at a waterfall resort in  Kampot province. Despite receiving several threatening  phone calls during the operation the team confiscated  wildlife meat. A fine was imposed for the crime, which  was paid without further dissent by the restaurant.
After being contacted by an informant in Mondulkiri, on  August 16th two groups of the WRRT travelled  immediately in response to information regarding a  sambar deer, which had been killed and taken to a  suspect trader's house. Upon arrival, at around 4:15pm,  WRRT contacted the chief prosecutor of the province,  requesting his support while the suspect premises were  sealed off by WRRT team members. It was clear the  location had been correctly identified as the house owners were seen trying to jettison the evidence. At  around 5:40pm the prosecutor and local authorities  arrived and a search of the house was conducted.
There was an amount of illegal wildlife parts,  including banteng and serow horns, as well as the  recently killed sambar. The trader was placed under  arrest and sent to pre‐trial detention.
On August 23rd the WRRT, while carrying out the  monthly work plan conducting searches along  National Road 5 in Kampong Chhnang, stopped at  roadside vendors known to sell wildlife, close to a  suspect trader's house. Here they confiscated wildlife  from different species, including leopard cat, cobras,  other snakes and birds. Due to the aggressive behavior
of the seller, the WRRT documented the case, which went to court. Live wildlife was taken to PTWRC, other  evidence was destroyed.
Early in the morning of August 29th after receiving information of an Asiatic black bear being kept in a most inadequate cage at a guesthouse in Kampong Chhnang province, two groups of the WRRT were called back from the operations they were conducting, while Vong and other team members, disguised to avoid identification and driving a hired vehicle, booked into the restaurant of the guest house in order to check out the information for veracity. Once everything was confirmed, the two groups waiting to take action met with the prosecutor. The bear was then confiscated without further ado and transported to PTWRC where it is now being cared for by Free the Bears.
On September 6th the WRRT, in cooperation with FA officials in Kampong Chhnang province, helped with  rescued wildlife, which had been seized by Military Police. The WRRT took the responsibility of transporting and  releasing the animals back into natural habitat in different locations. Species included three common palm  civets, water snakes, rat snakes, Burmese pythons, Indochinese spitting cobras and snail‐eating turtles. This  again demonstrates the good relationship that now exists in many areas between the WRRT and local officials.
We received information from a district governor in Ratanakiri province that a young sun bear was being kept  in a village by tribal people. The team travelled up to Ratanakiri on September 11th and along with a deputy  district governor paid the village a visit the following day. They located the bear, which was thin and in poor  condition, and as usually happens in such situations, persuaded the owners to surrender the animal, which was  transported to Phnom Tamao, where it was handed over to the Free the Bears.
On September 26th based on information provided by  an informant in Siem Reap regarding illegal wildlife  being sold at the Royal Gardens, the WRRT took quick  action, sealed off the area and seized a number of wild  animals of different species including 29 doves of  different species, 7 common mynas, 14 black‐winged  stilts, 75 snail‐eating turtles and 2 box‐turtles. Sellers were apprehended, the case was documented and the  offenders signed a contract agreement of non‐re‐offense.
At the end of September important guests, who  support our projects, visited us. A presentation of the  WRRT's work by FA team leader, Heng Kimchhay, was planned before I took them to PTWRC to check out our rescued animals. I received a message that snakes  and turtles were being sold in a nearby market. This  presented an ideal opportunity for our friends to see  the team in action. Dead snakes and live turtles were  confiscated, the case was documented and the irate  offender signed a contract agreement of non‐re‐offense.
We returned to the office and Kimchhay's presentation  and then travelled to PTWRC, releasing the turtles in  the Tonle Bati Lake, close to a pagoda, along the way.
The WRRT conducts different activities when  requested, varying from wildlife confiscation or rescue  to education and awareness. In September a delegation from the Forestry Department from Laos organized by Free the Bears came to Cambodia to see how we  address the illegal wildlife trade here. The team was busy on important operations in N.E. Cambodia and could not meet the Laos delegates, but FA team leader, Heng Kimchhay, gave a presentation in our  Phnom Penh office on the history of the team, how it  was implemented and the legal requirements, with  results since 2001. This was well received by the Laos officials, who we are told wish to implement their own rescue team in Laos.
Snares are perhaps the most damaging aspect affecting wildlife. Wildlife Alliance is conducting a campaign to address this issue, called the "Capture Project". Events were held in August and September to educate members of the public about the damage this method of hunting causes. WRRT and patrol team rangers from our forest protection units in Koh Kong were present to assist with educating visitors on this issue.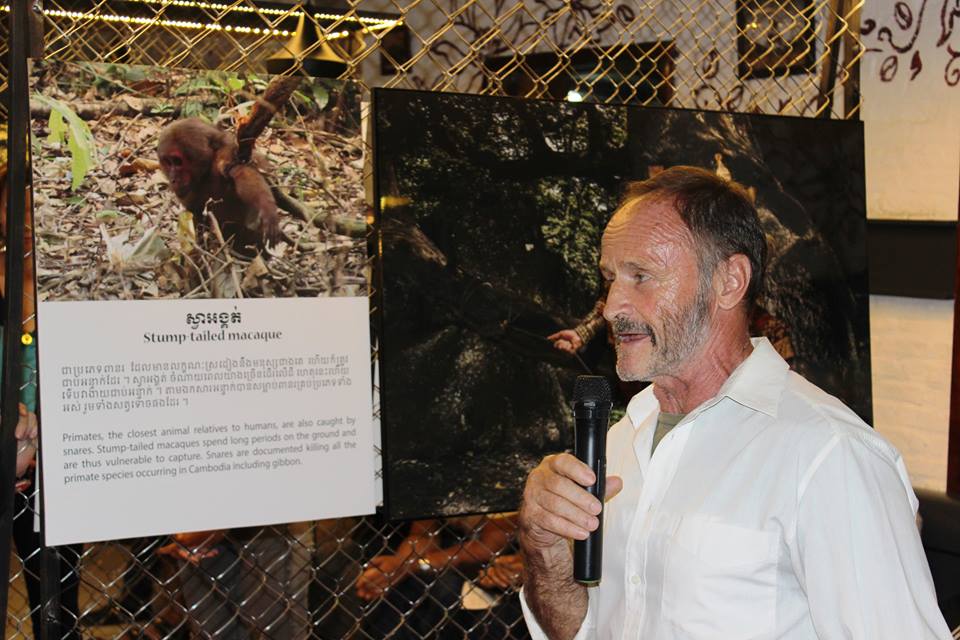 Nick Marks – Wildlife Rescue E‐Newsletter 2017, Issue 3