A clouded leopard snared in Kampot province has died due to its injuries. The cat was brought to Phnom Tamao Wildlife Rescue Centre after the Wildlife Rapid Rescue Team (WRRT) were informed that police had it in their custody. The clouded leopard was successfully treated for its injuries but sadly died two days later.
Last week, the clouded leopard was removed from a snare in Teuk Chhou district and later taken in by police Major General Mao Chanthurith. On 16 July, the Wildlife Rapid Rescue Team (WRRT) went to help.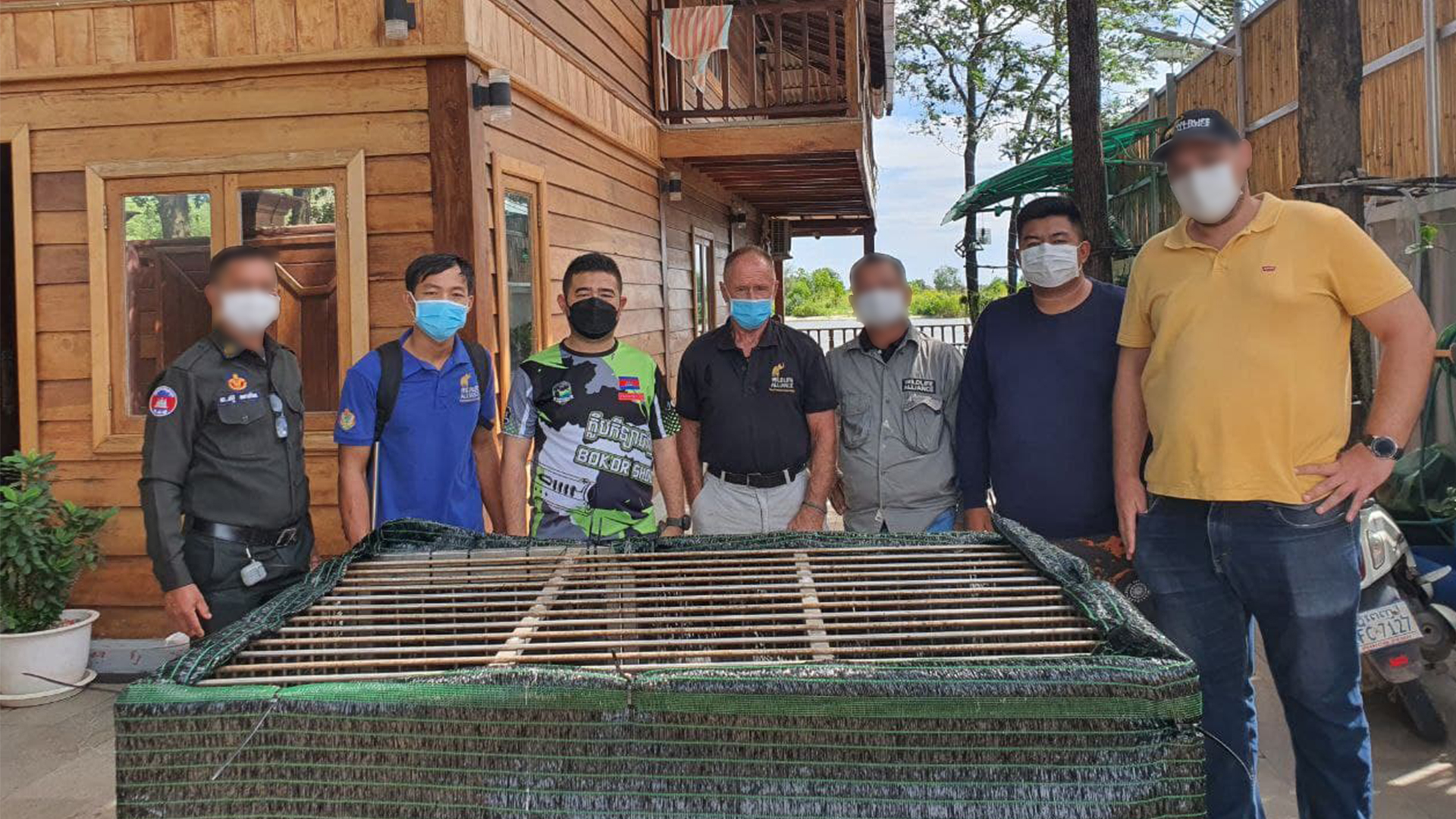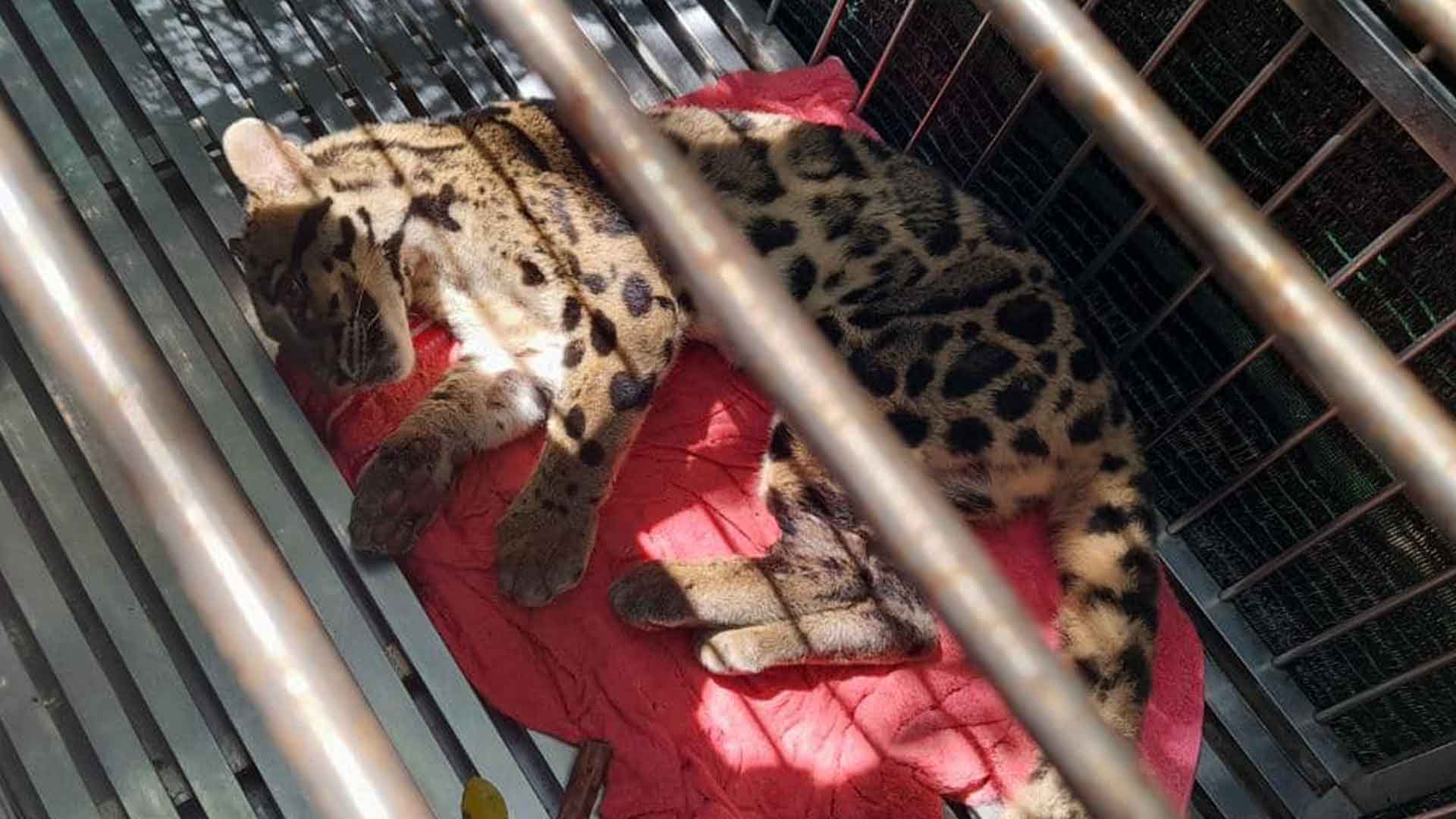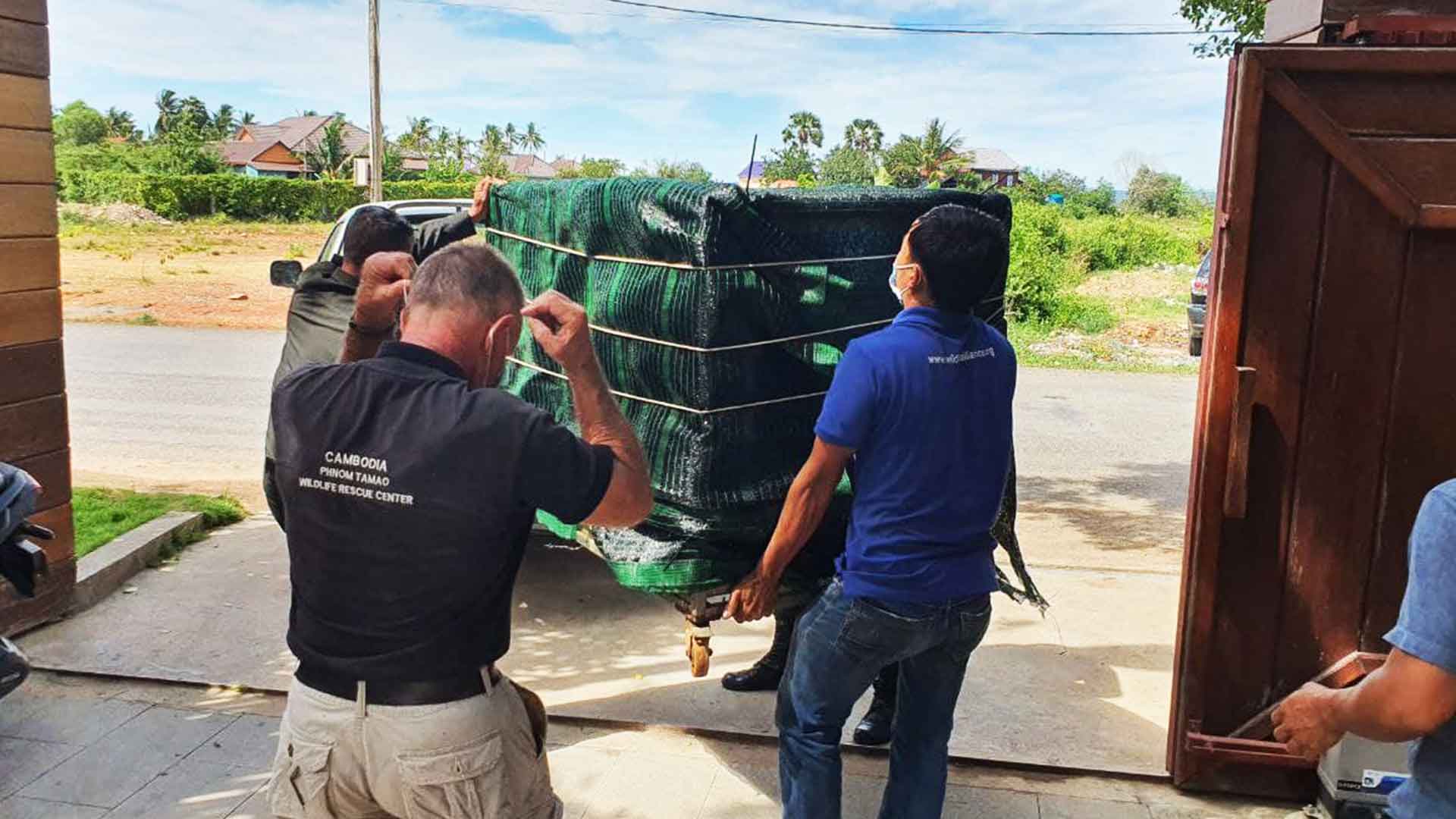 "Snared animals always require some treatment," said Wildlife Alliance's Director of Wildlife Rescue and Care Nick Marx. He described the poor condition of the cat, a young male. "The clouded leopard was very weak and very frightened." Due to his injuries and malnourishment, the cat's chance of survival was 50% at best.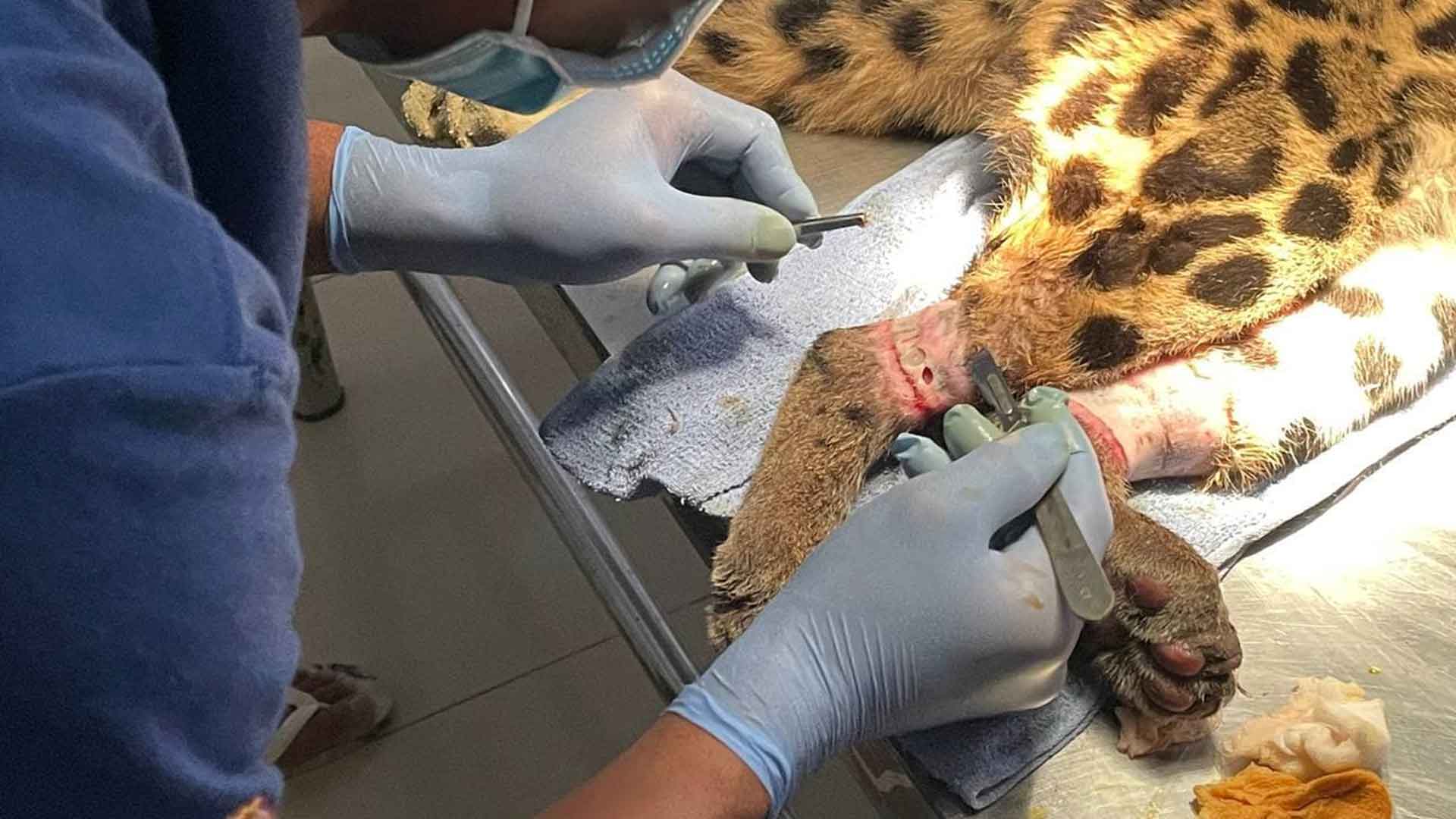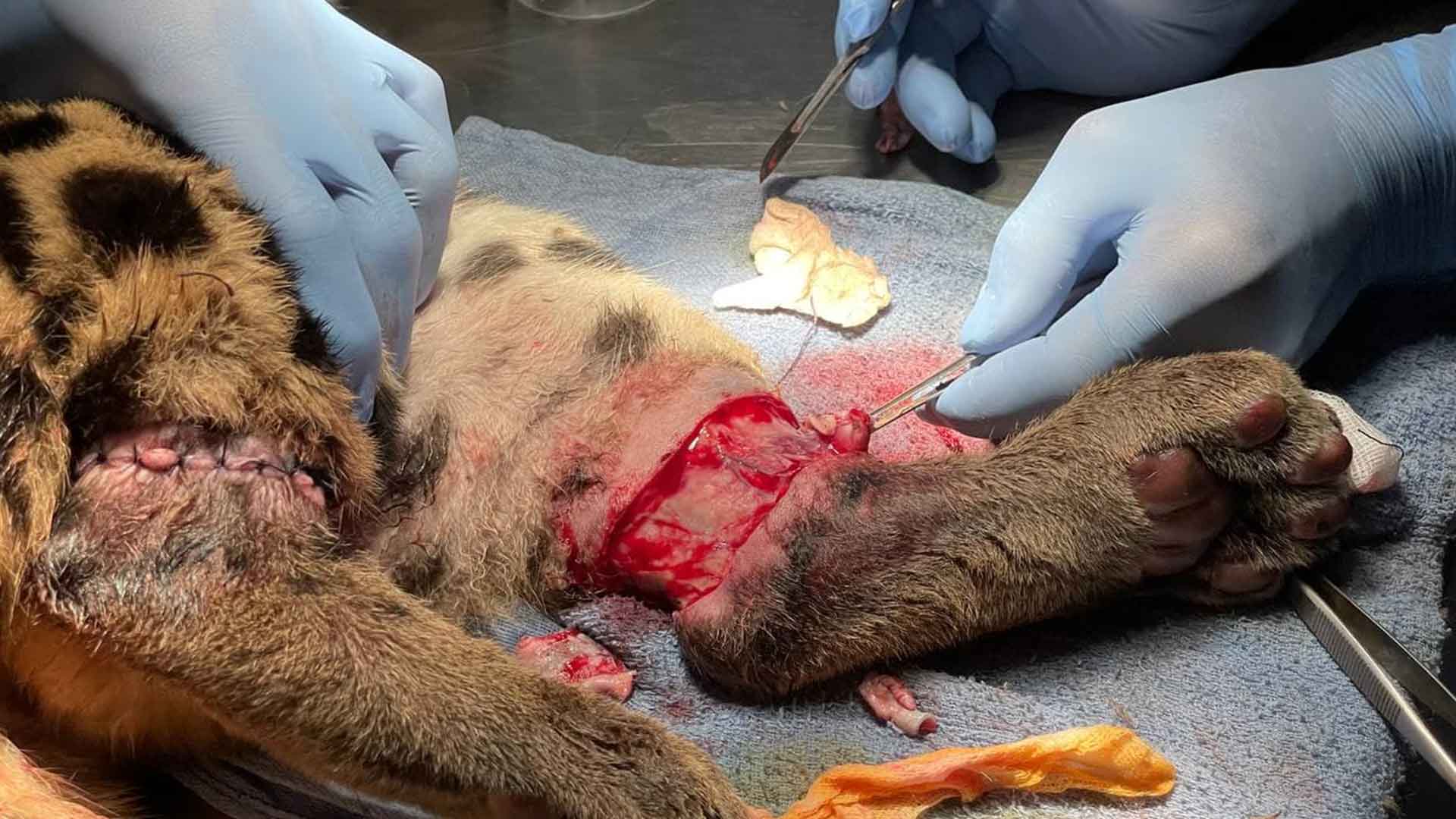 The clouded leopard was transported to PTWRC where he underwent treatment. While the treatment was successful, sadly he died two days later.
Are clouded leopards endangered?
The International Union of the Conservation of Nature (IUCN) classifies clouded leopard (Neofelis nebulosa) as Vulnerable. This means it is one step away from Endangered status and the species is threatened with extinction. However, the IUCN species assessment is due to be updated soon. Under Cambodian law, clouded leopards are categorized as Endangered.
Clouded Leopards in Cambodia
While we don't know how many clouded leopards are in Cambodia, a recent sign is cause for hope: footprints nearby the Wildlife Release Station in the Cardamoms Rainforest. Read more here. Meanwhile, captive Clouded Leopard Popork is one of our ambassador animals at Phnom Tamao Wildlife Rescue Centre. You can meet him on our Behind the Scenes tour.
How many clouded leopards are left?
In short, we don't know how many clouded leopards are left in the wild. 
What is known is that almost a third of clouded leopards were lost from 1993 to 2014, according to IUCN estimates. What's driving this decline? Habitat loss and hunting. 
If these threats are not mitigated, the mainland clouded leopard could go the way of the Formosan clouded leopard, a subspecies endemic to Taiwan. 
Why did the Formosan clouded leopards go extinct?
The last official sighting of the wildcat was in 1983, and the species was declared extinct in 2013. However, a ranger reportedly saw a Formosan clouded leopard while out on patrol in 2019. This sighting is unconfirmed according to polling of big cat experts who cited a general lack of available information as a barrier to giving a conclusive answer about the sighting, according to a press officer for IUCN talking to Mongabay.
How do snares kill?
The events that led up to this wildcat's death are a tragic reminder of the threat of snares. In this video, Marx describes the news of its death as "due to the snare epidemic that is sweeping through the forests throughout Cambodia." 
Another recent victim of snaring is the injured gaur that WRRT went to rescue last month. The gaur had broken free, but lost part of her leg to the snare. In both cases, it is unknown how long the animals were in the snare. The duration an animal is trapped for has a huge impact on their chances because once snared, they cannot access food or water. 
The death of this clouded leopard is not unusual. The majority of animals will not make it out of the snare alive. "Most animals caught in snares die due to their injuries," said Marx. Rangers who patrol the forests to remove snares are in a race against time. When snared animals are found, most are dead already. "They die slow and painful deaths," either due to injuries, or starvation. 
This clouded leopard was no exception. He made it out of the snare but his weakened state led to his death. At first, the signs were encouraging: following treatment, he came round from the anesthetic, unlike the gaur. PTWRC staff did everything they could to imitate the cat's natural environment, and thus minimise stress. "We placed him in a small cage which we covered with leaves and branches to make him feel more at home and more secure," Marx explained. But sadly, the cat did not eat, and two days later, "he took the same path as the gaur, and sadly died."
While deeply saddened by the passing of this clouded leopard, we are now doubly determined to eliminate the scourge of Cambodia's forests: snares. These agents of death are set in the thousands throughout forests in the country. 
Why are snares everywhere?
To make a snare, hunters need only metal cables and nylon rope, materials which are cheap and widely available. Once set, snares are like ticking timebombs which can kill any passing animal. Rangers in the Cardamoms patrol 24/7 but they cannot be in all places at all times. Furthermore, snare detection rates in tropical forest landscapes are likely to be low. A recent study from  Cambodia's Eastern Plains Landscape suggests snare detection rates may be as low as 20% 
How does snaring drive extinction?
When it comes to the deadly threat of snares, for some animals it is already too late.  In Cambodia, snares are the primary reason for the extirpation of species, including tigers. 
We see the damage that snares so firsthand. Wildlife Alliance rescues many wild animals around the country.  Last year, our Wildlife Rescue and Care team were called to rescue three snared banteng in Kampong Speu and Odor Meanchey province, but all died before we could reach them. Meanwhile, rangers in the Cardamoms are locked into a race against time to remove snares from the forest floor before they claim their victim. 
This important conservation work has been recognized by the Royal Government of Cambodia. In 2014, Director of Wildlife Rescue and Care Nick Marx was awarded with the Royal Order of Sahametrie for rescuing Cambodian wildlife. "I am very honoured to receive this award," said Marx "because of this, I feel it is my duty to inform the government and the Cambodian people about the damage that snares do."
How can we stop the snaring crisis?
For Marx, the risk of snaring is clear, and urgent action is required before it is too late. "If stronger legislation cannot be implemented and stricter penalties applied to stop this method of hunting,"" he said "Cambodian forests will have zero wildlife left."