31 July is World Ranger Day. But what does that mean? Before we answer that, let's start with the basics:
What is a park ranger?
Around the world, rangers are at the heart of conservation. They patrol national parks, including   rainforests, mangroves and savannas to stop threats to the landscape. They work in tough terrain, and are on call 24/7. Often rangers are all that stand in the way of forest and wildlife disappearing forever. 
In short, rangers report from nature's frontlines. They keep the forest standing. They save endangered animals on the brink of extinction.  
What does a park ranger do?
Park rangers go on patrol around national parks checking for illegal activities. In many ways, rangers are the police of the forest. Just like police, they can stop and apprehend people who break the law.
Here in Cambodia, ranger teams in the Cardamoms are a diverse group. Teams are made up of: Ministry of Environment, Royal Gendarmerie and Wildlife Alliance supervisors.
Want to see an average day in the life of a ranger? Join Wildlife Alliance rangers on patrol here:
For a taste of how rangers protect animals in the forest from deadly snares, see park ranger supervisorSowath Rethy  explain how his team remove snares:
What does it take to be a park ranger?
To be a park ranger takes determination, but perhaps above all, love for nature. Spending weeks away from family and friends to patrol the forest is only possible when one is dedicated. 
It's not a job for everyone. Sowath Rethy is the supervisor of Koh Pao ranger station in Koh Kong province. "Not many people want to do this job," he says "because it's dangerous."
But he remains dedicated to the cause. "I will continue until the people reduce or stop cutting down the forest and hunting wildlife," he told Channel News Asia. 
Sometimes rangers start from the most unlikely places. Often those who know the forest best make the best rangers. And few people know the forest better than loggers and poachers. Take Men Theoun. Today, he is a ranger in Phnom Prich Wildlife Sanctuary in northeast Cambodia. But 10 years ago, he hunted wildlife for a living.  "I would manage to get one or two pairs of banteng and wild ox horns from a trip," he remembers.  But then things changed.
"The local people understood that I was an experienced hunter and that I knew my way around the forest," he told the Phnom Penh Post "so they recommended that I be hired as a forest ranger." 
Meanwhile in the Cardamoms, others have given up hunting for better opportunities. The village of Chi Phat was once a hotbed for forest crimes, known as the "circle of death" for its thriving wildlife market. Chenda was doing the hunting. 
"I killed animals because my family is poor and I need to make money so this was the best ithat I could do." He recalls the animals that were in demand. "We would look for gibbons, elephants and deer." But when Chi Phat opened Cambodia's premier community ecotourism site, Chenda had more options. Now he works as a local guide "and with this I could stop hunting. Before I had to kill animals anymore because I didn't have another choice." With his new found calling as a tour guide, Chenda has discovered his love of wildlife.  "I like animals and I want to show people how beautiful they are."
Why are park rangers heroes?
Today, over 180 Wildlife Alliance rangers patrol the Cardamoms day and night. 
The results of their patrols speak for themselves. From 2002 to 2020, rangers have:
seized 7,393m³ of illegal timber

removed 339,238 snares, and

rescued almost 7,000 live animals.
And that's not all: since 2006, rangers have achieved zero elephant poaching in the Cardamoms.
Park rangers are climate heroes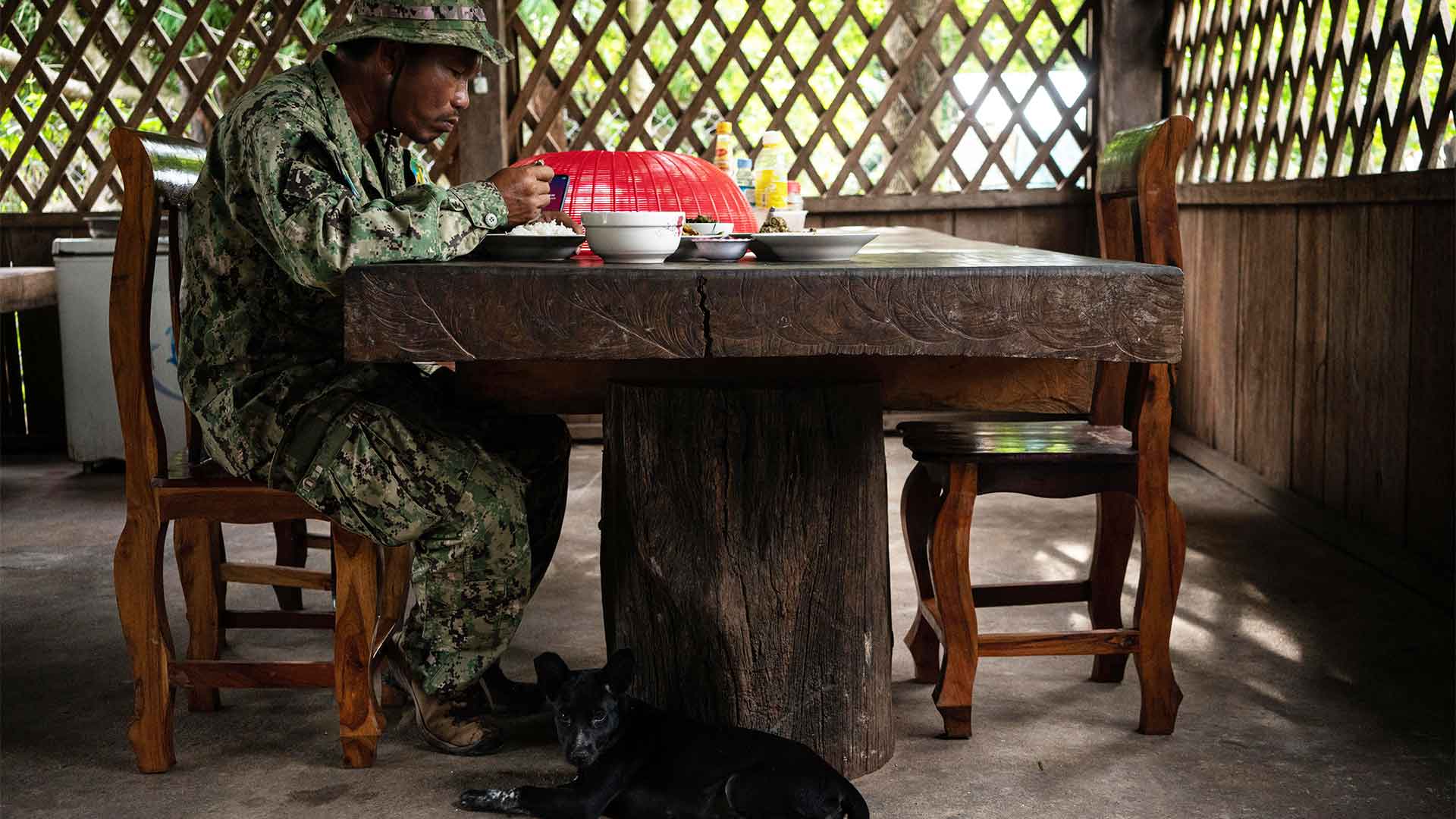 To Ministry of Environment ranger, Mouen Veasna, protecting the Cardamoms means much more than protecting Asia's last great rainforests.
For Veasna, forest protection is important for the future. "Firstly, for the sake of our descendants," he said "and secondly to help reduce global warming." To have forest is to have a future, he says. "To have forests is to make sure that the people have a future."
Rethy agrees. "If we lose the forest, our country will face disasters, such as irregular rain and storms. Not to mention water shortages. 
Because after all, Veasna says, "if there's no forest, there's no water."
Every year, a staggering 3.5 to 4.5m of rain falls in the Cardamoms, supplying over 20 major waterways. What's more,  the Cardamoms are one of the region's most important regulators of rain, which influences precipitation patterns around the world. NASA studies prove that deforestation in the Amazon, Congo Basin, and Southeast Asia have reduced rainfall in the Northern Hemisphere. 
And it's not only the forest which is thriving thanks to park rangers. The Cardamoms is located in the Indo-Burma biodiversity hotspot, making it a treasure trove for wildlife. At least 60 threatened species call the Cardamoms home, including Critically Endangered Sunda Pangolin, Siamese Crocodile,  Elongated Tortoise, and even Cambodia's national bird the Giant Ibis.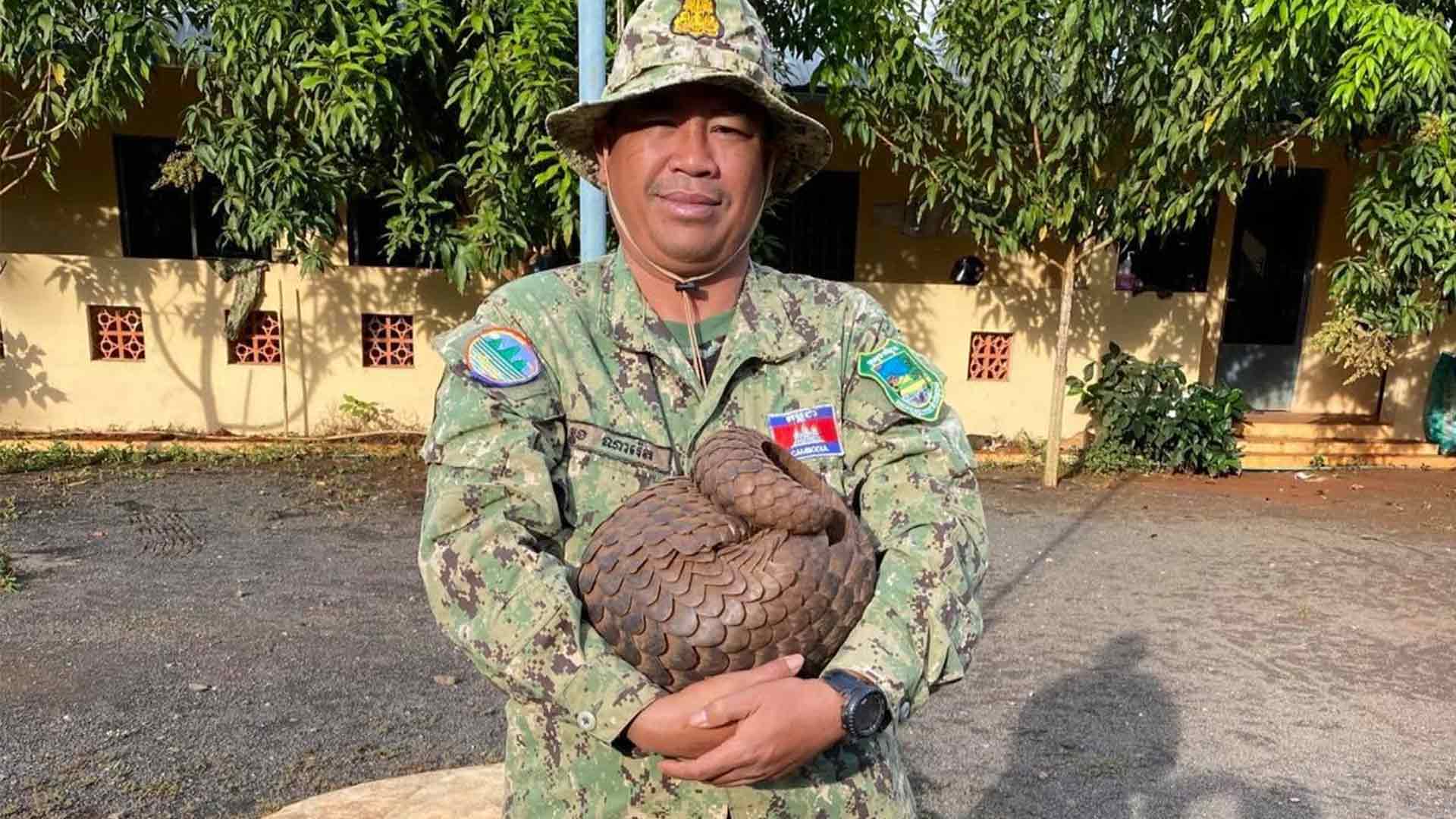 Rangers in the Cardamoms patrol to remove threats, including deadly snares. From 2002-2020, rangers rescued almost 7,000 live animals, like this sun bear who was rescued from a snare in January 2021.
Meet the heroes of the Cardamom Rainforest
Forest protection in the tropical belt is challenging work. In Cambodia, the Cardamom Rainforest Landscape includes one of the largest unfragmented rainforests in Southeast Asia, so there's a lot of ground to cover! Rangers patrol 1.3 million hectares of forest to keep the Cardamoms safe from logging, poaching and other illegal activities.
Patrols began back in 2002, shortly after the last Khmer Rouge holdouts left Koh Kong. It was a difficult time to be a ranger, Mouen Veasna remembers. "Very few people went into the forests before because there were Khmer Rouge…" Veasna has been a ranger for over 30 years. Today, he serves with the Roveang unit in Pursat. 
Is being a park ranger dangerous?
Nowadays, the danger is not from the Khmer Rouge but from loggers and poachers who don't follow the law, he says.
Others agree about the challenges of being a ranger. Sowath Rethy, supervisor of Koh Pao ranger station in Koh Kong. For him, the hardest battle is the one for hearts and minds. "The most difficult thing is to change the mindset of the people to stop committing natural resource crimes." To address this mammoth challenge means engaging in "legal activities and participating in the conservation of natural resources."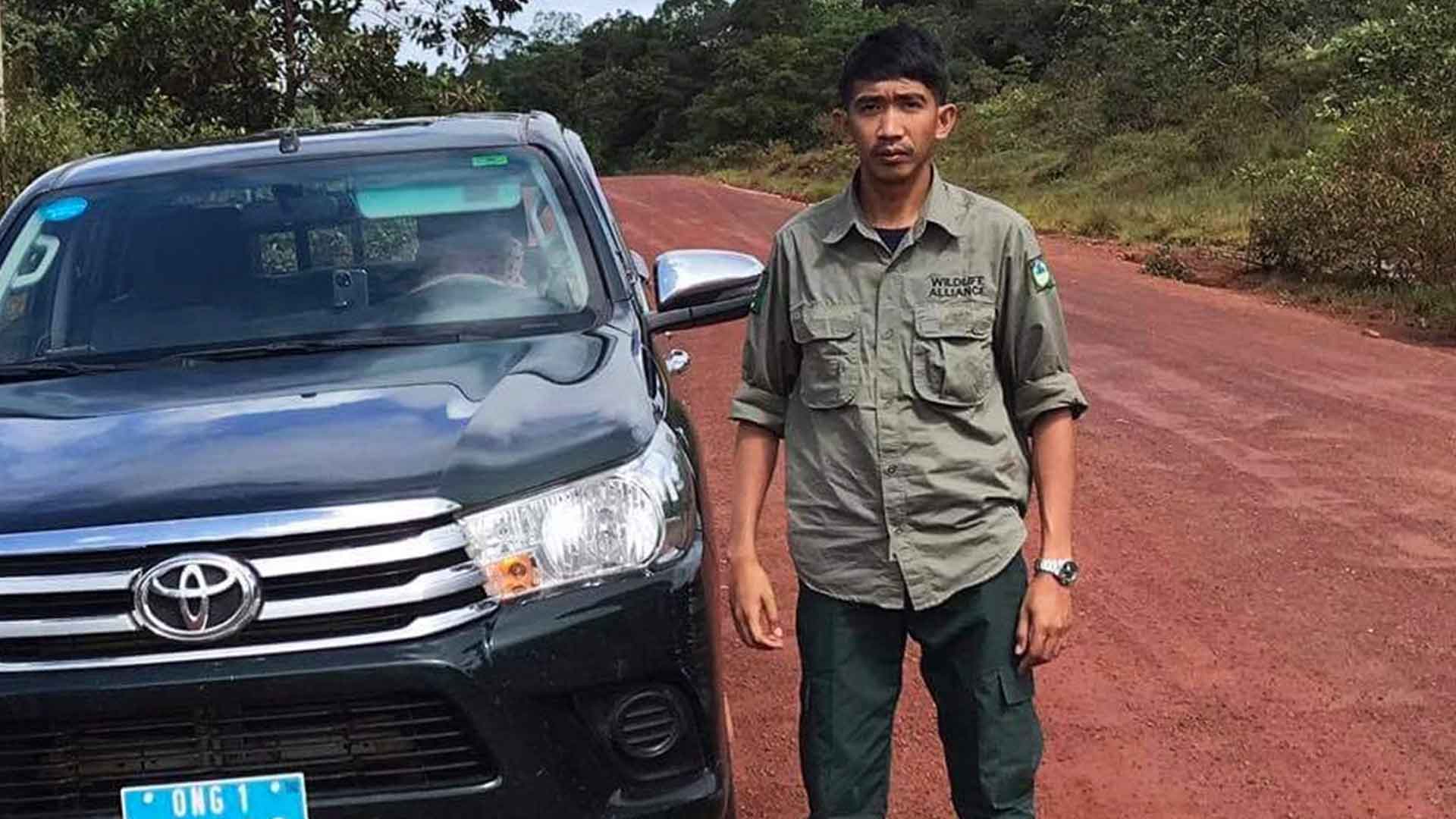 Do park rangers carry guns?
In Cambodia, members of the military police and Ministry of Environment rangers are authorised to carry guns. While they may rarely fire them, guns are a necessary deterrent because loggers and poachers are often armed. In conversation with the Khmer Times, Ev Chrib one of Cambodia's 42 female rangers admitted that this was cause of fear at first. "I initially used to panic when I [saw] armed suspects," she said. "When they fire their guns, I used to get terrified."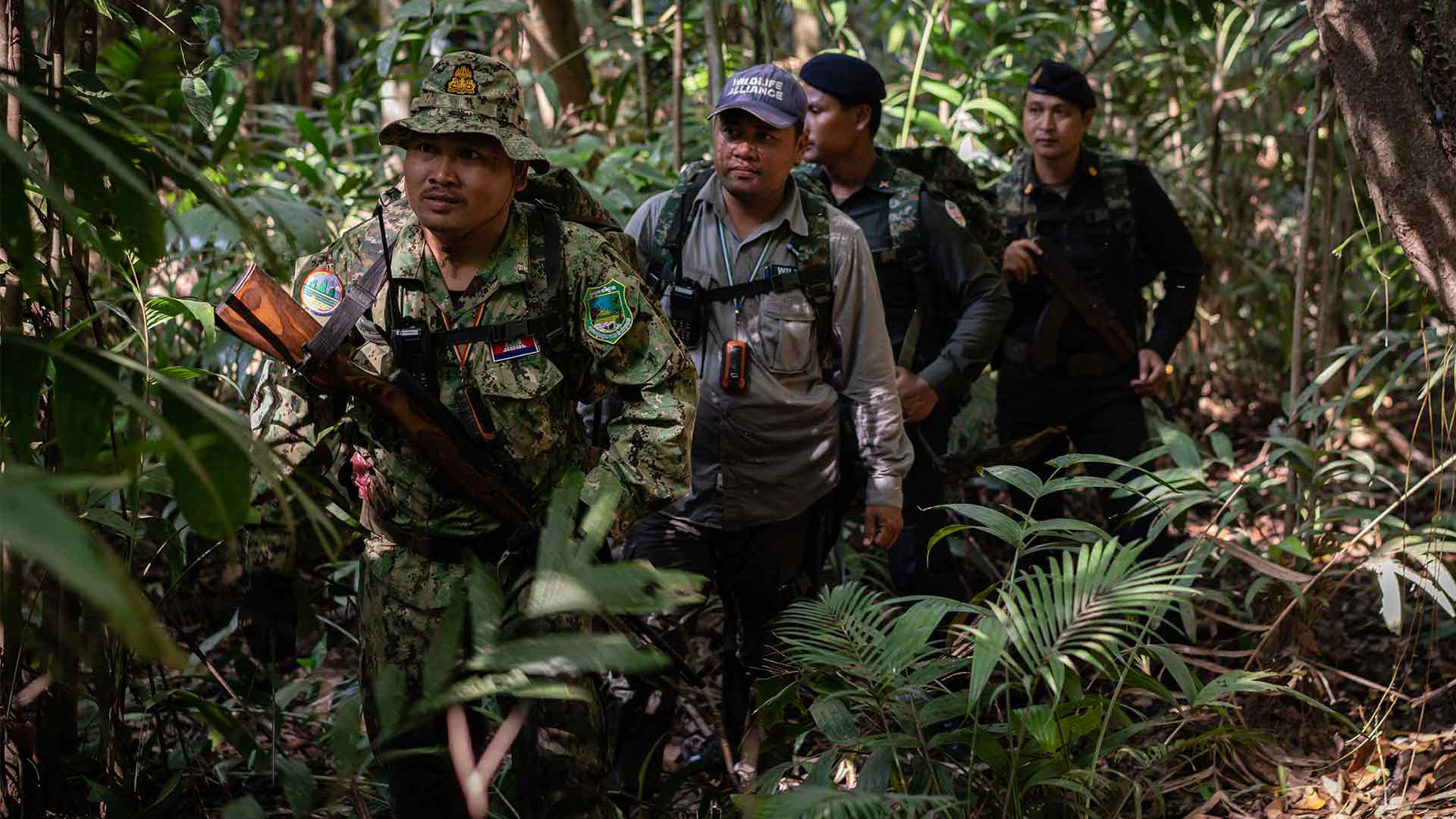 Rangers killed in action in Cambodia
And she has reason to be fearful. While the Khmer Rouge may be long gone, patrolling the forest can turn deadly. According to the Ministry of Environment spokesman Neth Pheaktra, two rangers have been gunned down in recent memory. "In the past eight years, two rangers were killed," he told the Phnom Penh Post "and many others were injured on missions for the cause of the environment and our natural resources." 
Those killed while on duty include:
Teurn Soknai, Ministry of Environment Ranger; 
Sek Wathana, Military Police Officer; and 
Thul Khna, WCS SMART Officer, 
Who were killed on January 30th in the Keo Seima Wildlife Sanctuary (KSWS) while on patrol near the Cambodia-Vietnam border, according to a statement from Wildlife Conservation Society (WCS).
"Every day, rangers and law enforcement staff risk their lives to protect wildlife and forests," said WCS Cambodia director Ross Sinclair. "Soknai, Wathana and Khna will always be remembered as conservation heroes."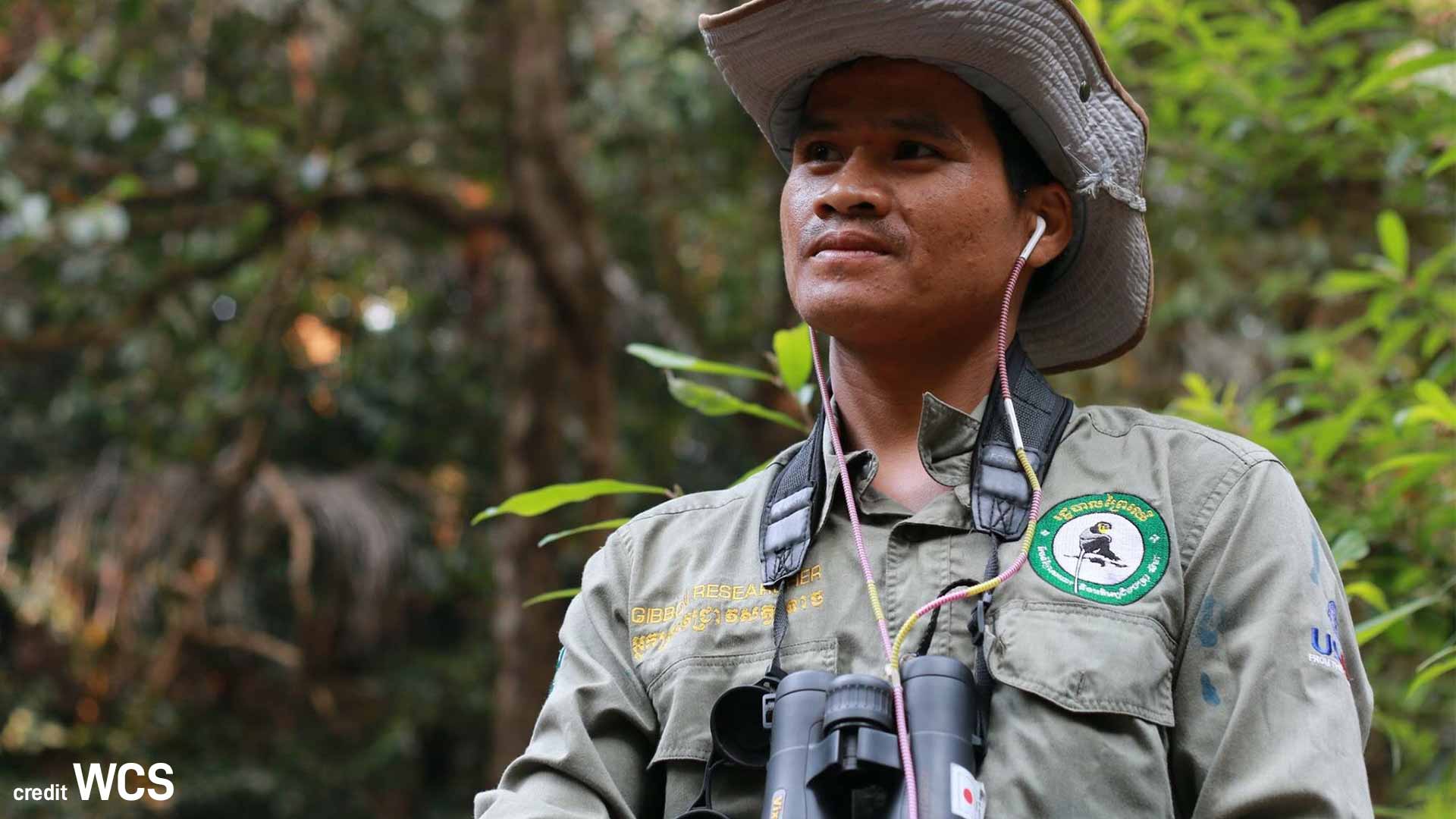 Other rangers, also posted in Cambodia's northern provinces, were who killed in action in Cambodia include: 
Sieng Darong, a Forestry Administration ranger, and 
Sab Yoh, a police officer
Who were shot and killed in cold blood as they slept.
"Darong, 47, and Yoh, 29, were gunned down by cold-blooded killers with high powered weapons as they slept during an overnight patrol tracking illegal loggers and poacher," read a statement from WCS. 
Darong and Yoh were murdered just a few hours after confiscating chainsaws from an illegal logging camp. Two others who were also on patrol were lucky to escape with their lives. 
Why celebrate World Ranger Day?
According to the Thin Green Line, over 150 Rangers lose their lives in the line of duty each year. In the last decade, over 1,000 Rangers have been killed. According to statistics, Asia is the deadliest region for rangers, way ahead of Africa.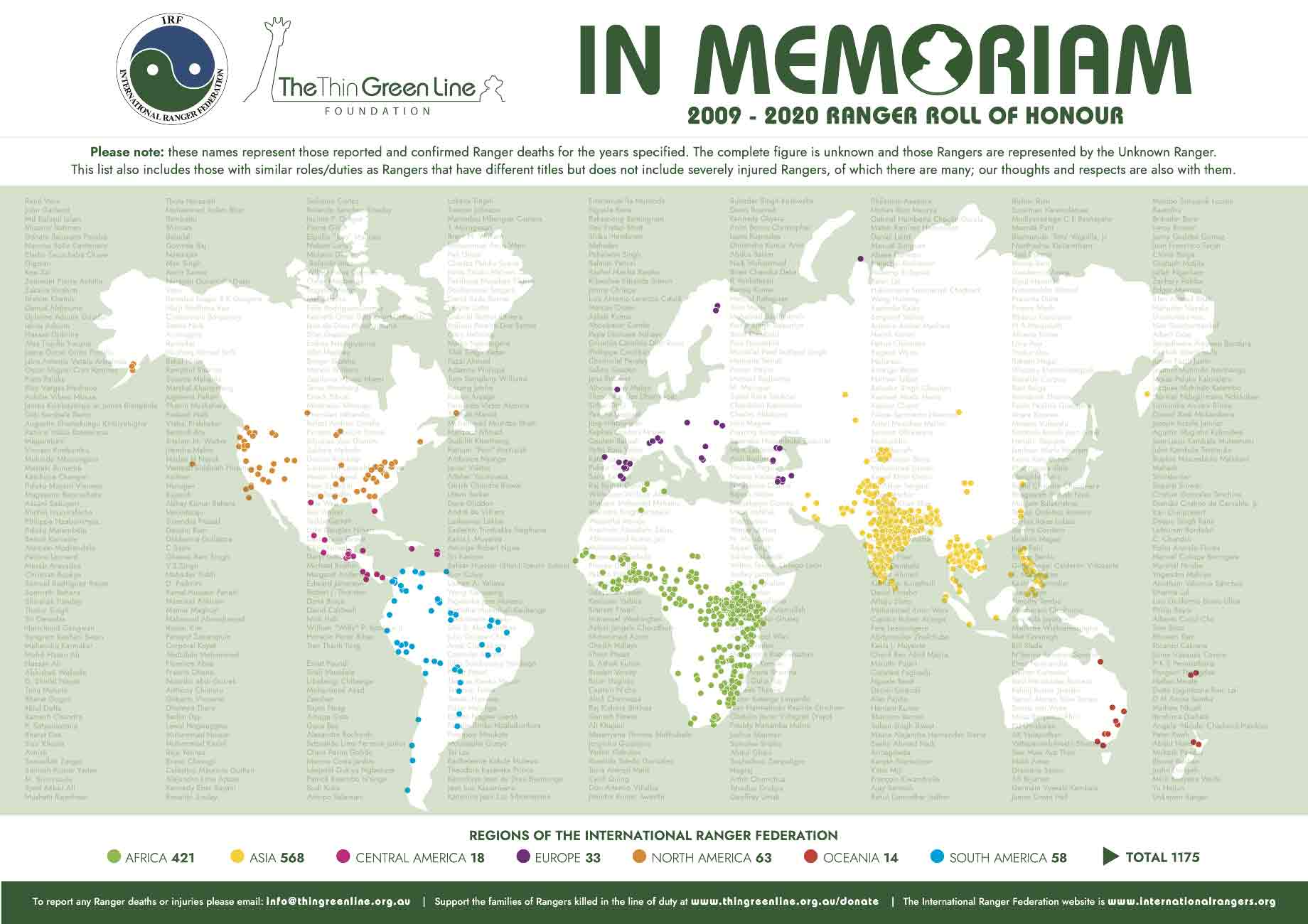 Support the heroes
So 31st July is a day to take stock of the contribution of rangers make and honour fallen rangers.
Today, Wildlife Alliance stands with rangers around the world on nature's frontlines. 
To support everyday heroes who risk their lives to offer direct protection to forests and wildlife in Cambodia, support rangers patrolling the Cardamoms.
Our forest rangers work tirelessly to protect some of the world's most endangered animals in one of Southeast Asia's last great rainforests.
Our forest rangers work tirelessly to protect some of the world's most endangered animals in one of Southeast Asia's last great rainforests.
Our forest rangers work tirelessly to protect some of the world's most endangered animals in one of Southeast Asia's last great rainforests.