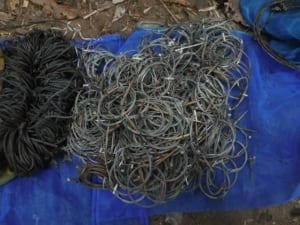 Poaching threatens wildlife across Cambodia. In the last 12 years, Wildlife Alliance Rangers removed in total 155,494 snares from the forest floor.
Snares are lethal weapons that trap and kill wild animals. Outside the wet season, hunting intensity is relatively constant. The majority of the hunters are installing snares close to their houses, but some can venture into more remote areas.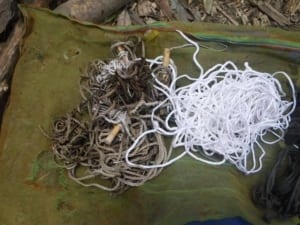 Wildlife Alliance Stung Proat rangers marked the dry season with a major capture. 460 snares (civet, wild chicken snares and turtle hooks) were found in a hunting camp. Darian Thackwell, the head ranger of Stung Proat Patrol Station said that the hunters run away before the team reach the area. "They left behind the hammocks, clothes, hunting snares and food for one week." "Definitely they were prepared to do some damage" he added.  Wildlife Alliance patrolling strategy was designed to discourage hunting activities. Every day our rangers are on the ground… hunting the hunters.
Please support Wildlife Alliance Rangers, GET INVOLVED. Read more about Cardamom Protection Program.
Wildlife Alliance Stung Proat rangers gallery